The Best Team Win… Ever?
Call me a slave to the moment. Call me somebody who gets lost in the "now." Call me whatever, but I honestly cannot remember the last time we beat a team this good, in this good form, at home, this decisively. Sure, it was "only" a 1-0 win, but this felt different than the Memphis 901 FC 1-0 win earlier this year. There was no questions of flukes, luck, or "bad day at the office." Birmingham Legion FC purely outworked, out defended, out pressed, and simply outplayed a San Diego Loyal team many consider to be a title favorite.
Time to "Eat the Bug"
Last week on The USL Show, I predicted that San Diego Loyal would beat Legion FC.

Originally tweeted by Ryan Allen (@ILM_Ryan) on August 10, 2022.
On the show itself, I issued a challenge to the 3 Sparks. I said, "This is a match Legion can win, but until I see Legion beat a real title contender at home, I am going to predict a loss. I will only predict a Legion win once they prove me wrong."
As they walked out the tunnels, Coach Khano Smith came over with a big smile on his face and said, "So, you picked against us, huh?," patted my arm, and walked away. I knew the entire team knew. I was not alone in my prediction of Loyal taking all 3 points. John Fuller of The Football Forge and EVERY SINGLE MEMBER of The USL Show picked Loyal to come to Protective Stadium and win.
The boys came out with a fire and determination I have never seen before. The level of press, the level of aggression, the level of "F— you", it was all at another level. It wasn't aimed at me. It was aimed at everybody in the USL World. Legion are here, and they are for real.
So, Coach Soehn, Khano, Eric, and to everybody in the locker room. You proved me wrong. Now do not lose that fire. Because while you made me a believer, the world of the USL are still skeptics. It takes more than one result to force the league to respect. It's time to go dominate. Show the league who we are and why we demand respect.
The Match
In all reality, this match recap is "boring" if you read the last post match reactions against Atlanta United 2. It's the same basic principal. Legion came out in the 4-1-3-2.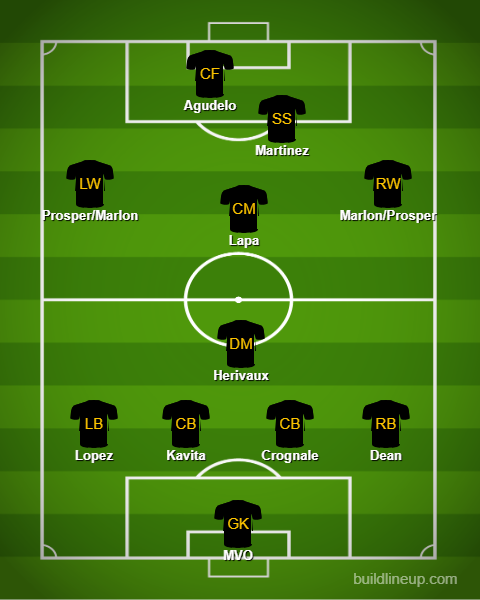 This press that Legion came out in was smothering. It was the best match Juan Agudelo has played in his short Legion career. His ability to pick and choose his press is what makes him so dangerous. It was an incredible performance by all the attacker in Prosper, whose corner was dang perfect to Juan.
Originally tweeted by Birmingham Legion FC (@bhmlegion) on August 14, 2022.
Juan has finally come into his own, scoring Legion's first corner goal all season long. Why? Because we float it in the air and let our height win. Juan's third header of the season shows why we should be utilizing the high cross. And we have began using it to perfection.
This Defense
To talk about this defense, I want to show you some tweets by my good friend John Morrissey, aka USL Tactics.
There, @ZHerivaux100 intervenes. He's the star of the USL Tactics Show this week, but he put in a massive shift covering from side to side as the lone holder in support of the wide-funneled SDL attack.

This week's USL Tactics Show by @USLTactics highlights the smothering defense of the @bhmlegion over the Loyal, specifically highlighting @ZHerivaux100.

In clip two above, note @phanuel313 bossing Kyle Vassell. He had four…

…clearances and went 3/4 on aerial duels, but his physical presence was absolutely vital shutting down direct play into Vassell. That's San Diego's secondary source of offense beyond the press-denied central ground game, so you should see why the Loyal so struggled.

BHM often pushed Marlon, Ryan James, and Kasim high on the wings once SDL focused their in response to the cut-off middle. Coverage at back from Lopez and Kavita in the clips here were thus vital; both excelled.

John Morrissey
Here, @NickMoon17 is spirited in the counterpress and beats Herivaux to break in, but watch how staid Kavita and @alexcrognale remain. This was such a disciplined game for the Legion.

John Morrissey
Late on, @AndersonAsiedu8 entered and started doing the usual slate of amazing box-to-box Asiedu things, but he also shifted BHM into a deeper 4-4-2. Watch how that lets Herivaux follow a Moshobane drop while #8 remains to support the two-forward press. At back, Dean stays firm.

John Morrissey
Between Mikey Lopez (my personal Man of the Match), Alex Crognale, Zach Herivaux, Jonny Dean, and of course, Phanuel Kavita, this team has the potential to carry this city to a title.
One more play. SDL plays long, and Guido instantly sprays a game-opening switch when he gets to the second ball. Still, James and Lopez are perfect in their rotation, Asiedu covers to the middle, and Kavita clears. Lovely stuff, indicative of a side with a title-tier defense.

John Morrissey
Originally tweeted by john morrissey (@USLTactics) on August 14, 2022.
Why Was This Win "Different"?
Unlike other wins in the past, this was not a scape a goal, defend for 70′, and walk away with 3 points. Or like against Memphis, grind for 90′, get a goal, and walk away with all 3. While points are points and it "doesn't matter", it does a little bit. Legion looked like they had the potential to score at least three more goals.
Between Juan Agudelo's chip that BARELY missed, Marlon's ROCKET off the cross bar, and Jonny's missile that smashed the microphone on the post, Legion were dangerous all night. This was not a dysfunctional attack that was bailed out by an elite defense. This was a total team win. This was a total domination. This was the perfect tactic by Coach Tommy Soehn, with incredible in-match adjustments, with perfect subs at perfect times.
My only "but…"
Sadik was VERY lucky to get off on a yellow card for his foul. I've seen reds given for less than that. He was not going in on a tackle, which saved him, but studs to the shin are always candidates for a red card. We were lucky not to get one, but that does not take away from the other 89′ of completely and utter domination.
Buy Your Tickets for Detroit City TODAY! Let's Make Protective a Nightmare to Play at!
If you didn't hear, I now have a Patreon! Patreon is a monthly subscription way to help out small creators like myself. My "charges" are $3 and $5 per month. That gives you extra access like my full catalog of goals I've recorded, extra livestreams, and other fun stuff along the way.
It's ALWAYS going to be free to read articles like this one or listen to my podcast. That will never change. That said, if you cannot afford to donate (WHICH IS TOTALLY OKAY!), please consider taking the time and share my content!
Thank you to my Patrons who are already helping me out:
Dillan R.
Matt E.
Harry A.
Sandy L.
Clay G.
Thank you!