If It Ain't Broke, Over-Tinker With It
I understand rotation is needed. The team is exhausted. After going fully attacking on Saturday for an amazing win against San Diego Loyal, Legion overthought it. We only had two out-and-out strikers in the 18, and they were on the bench. One is Juan Agudelo getting a much needed rest after putting in one of the best shifts we have seen in Black and Gold. The other is Sadik Balarabe, who was resting because… I got nothing.
It needs to be said, we changed our system despite the other system working. I understand that Juan was not in the line up. That does not mean we have to change how we play. Instead of choosing to continue to play in a way that was winning matches, we went back to playing a system that is great for getting draws on a good night.
Frankly, this loss washed away the momentum of Saturday. Saturday's win allowed Legion to jump into fourth and a win would have increased the 3 Sparks' lead over Pittsburgh to 4 points. Now? We are relying on Pittsburgh to slip up along the way and we have to beat Memphis and Pitt.
Legion's load just got a lot heavier and the road just got much harder. This was a Must. Win. Match. And we just rolled the ball out there and expected to win using the same system that caused us to lose to Detroit City last time.
The Bad
"Dribble Ball" is back. We played this strikerless system that caused spacing issues and massive gaps between counter attacks, forcing the team to dribble the ball to slow it down for help or a lay off pass. Why? No "out-and-out" striker means we had nobody in the box ready for the ball. The gap between our forwards and midfield is absolutely massive because NOBODY is the striker.
This also creates a ton of positional confusion. Guys like Enzo Martinez and Bruno Lapa are very similar players. Same for Anderson Asiedu and Bruno. How so? As central midfielders or central attacking midfielders, they are dribble and distribute players. When you play without a striker, nobody takes that striker role. We had three guys trying to play as our "number 10", and so nobody was there to receive the ball on a counter.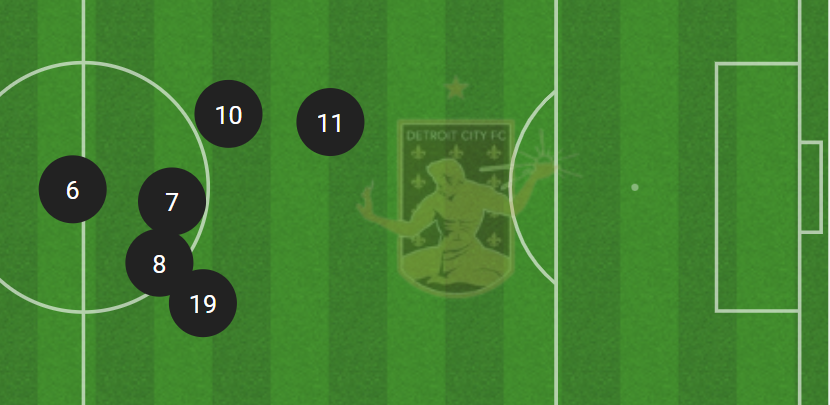 If you check out this little graphic, you will see how bunched up the midfield was. Most of the time I would tell you to ignore how central #7 (James), #10 (Prosper), and #11 (Marlon) are because they would switch sides, making their "average" position more central than it was. This time, though, they really were in these positions normally. Especially Enzo and Bruno.
The Enzo/Bruno/Ando Problem
When operating in this strikerless set up, Enzo and Bruno end up occupying the same CAM role. Why? Well, when operating without a striker, Enzo does not really have anybody to play the ball off of or to. He is the one who want to generate the attack, in this situation? That is to Marlon. The issue? Bruno has been doing it more effectively as a deeper lying player. Enzo is amazing at playing the ball in more advanced areas, but Bruno's deeper lying point guard like role has been instrumental in the team's success.
If Bruno drops back even farther to allow Enzo to do his thing, Bruno ends up playing the same place as Anderson. In this clip, look at how deep Bruno was playing. In a higher pressing attack, Bruno would NEVER be sitting as a pseudo defensive midfielder, but that is what this line up called for.
In this clip, we also see what appears to be Marlon making a massive mistake in not taking the shot. This camera angle does not show how much space he had to take the shot. I do believe that he had the space for a shot, but this clip also shows the downside of this style of play. Without the high press, nobody was an available outlet for the pass. Legion were playing 2 vs 6. Without a perfect finish, the team is never scoring from this opportunity.
Utilizing a Striker
Look at this clip below. We see Juan Agudelo's (and a true striker's) impact on the match. His hold up play was great, but watch Enzo make the run off of his right shoulder.
This is what we have seen out of this Striker-Shadow Striker relationship. It is all about that relationship. When you go without the striker and without the press, you are relying on solely the counterattack like you saw earlier. That counterattack can be effective, but only if the full team counters, not just two players. .
All clips above were tweeted by john morrissey (@USLTactics) on August 18, 2022.
What If We Need to Rotate?
Because we will need to rotate. There's only so many miles the wheels can take without a rotation, unless you want them to fall apart. To me, this is the ideal line up for a rotated team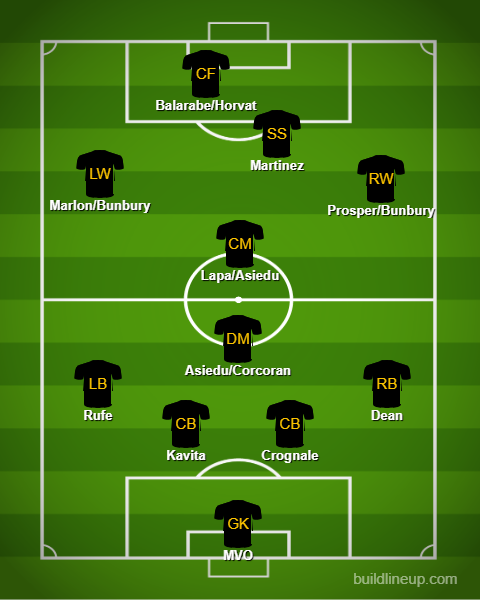 To me, if you choose to rest Mikey Lopez, Zach Herivaux, and Juan Agudelo, you have options. The most important being the striker option. We have a new guy, Sadik Balarabe, who is clearly talented and up for the USL. While he is a winger by trade, we've seen him have a real impact and continue to push as a striker with this team. On the other hand, Edi Horvat has clearly fallen out of favor of the coaching staff. That said, he would still provide a solid pressing option and at least give this system its much needed striker.
On top of this, you see I included Bunbury and Corcoran. These are two players that I would trust coming into the starting 11 against a "lower" team like a New York Red Bulls II. Bunbury would give Marlon and Prosper a MUCH needed rest while keeping the pace on the wings. Ryan James is a very talented footballer, but he just does not have the pace to be a winger in this system. He's a brilliant defender and a great attacking piece. He fits perfectly as a true midfielder, but any farther forward and he just does not provide that much needed pace.
On to Memphis
I said before that Detroit City was the one to keep an eye on for Legion to drop points. That said, that is not me saying we will beat Memphis. Legion will come out with a very attacking team and put on a tactical show like we did against Loyal. People are picking against them, backs against the wall, I'm sure the boys will be up for it.
That said, Memphis 901 FC is on a ROLL and has only gotten better since our last meeting. In a place that Legion (OR THE HAMMERS) have never won, Birmingham need 3 points to try and fight for that home playoff match. If not, you know what I have been saying all year long.
It's Home Playoffs or Failure
If you didn't hear, I now have a Patreon! Patreon is a monthly subscription way to help out small creators like myself. My "charges" are $3 and $5 per month. That gives you extra access like my full catalog of goals I've recorded, extra livestreams, and other fun stuff along the way.
It's ALWAYS going to be free to read articles like this one or listen to my podcast. That will never change. That said, if you cannot afford to donate (WHICH IS TOTALLY OKAY!), please consider taking the time and share my content!
Thank you to my Patrons who are already helping me out:
Dillan R.
Matt E.
Harry A.
Sandy L.
Clay G.
Paul H.
Trent W.
Ray M.
Thank you!