After Years of Heartache, Legion Dominate Memphis AT AutoZone Park
Since Pre-USL Days, this Memphis vs Birmingham Rivalry has always been heated. Between the "Battle of the Bones" in football, the INSANE basketball games, and now these soccer matches, the hatred between these two cities is real.
Now in the soccer side, Birmingham has not been able to get a win in Memphis stretching all the way back in the NPSL when Legion were the Hammers and 901 FC were Memphis City FC. This year did not feel like it would be the year. How could it be? Memphis 901 FC are one of the best teams in the league after years in the gutter. Fans were buzzing. The team was rolling. How could Legion possible walk away with even one point, let alone three?
Because this is the best Legion team we have ever seen.
Predictions
On The USL Show, I decided to back the boys to get 3 points. In my heart of hearts, I was not sure. Pre-Season, I predicted 3 points as well, thinking this 901 team would be A LOT worse than they are. Even then, I was not very confident with that prediction purely because of Legion's history in Memphis.
Interesting New Wrinkle
Who would have thought we would see the day of "Anderson Asiedu the Winger?" When the Starting XI was released, I was very confused. No Prosper, who I assume is out for rest, Anderson AND Zach in the line up? What could this possibly be?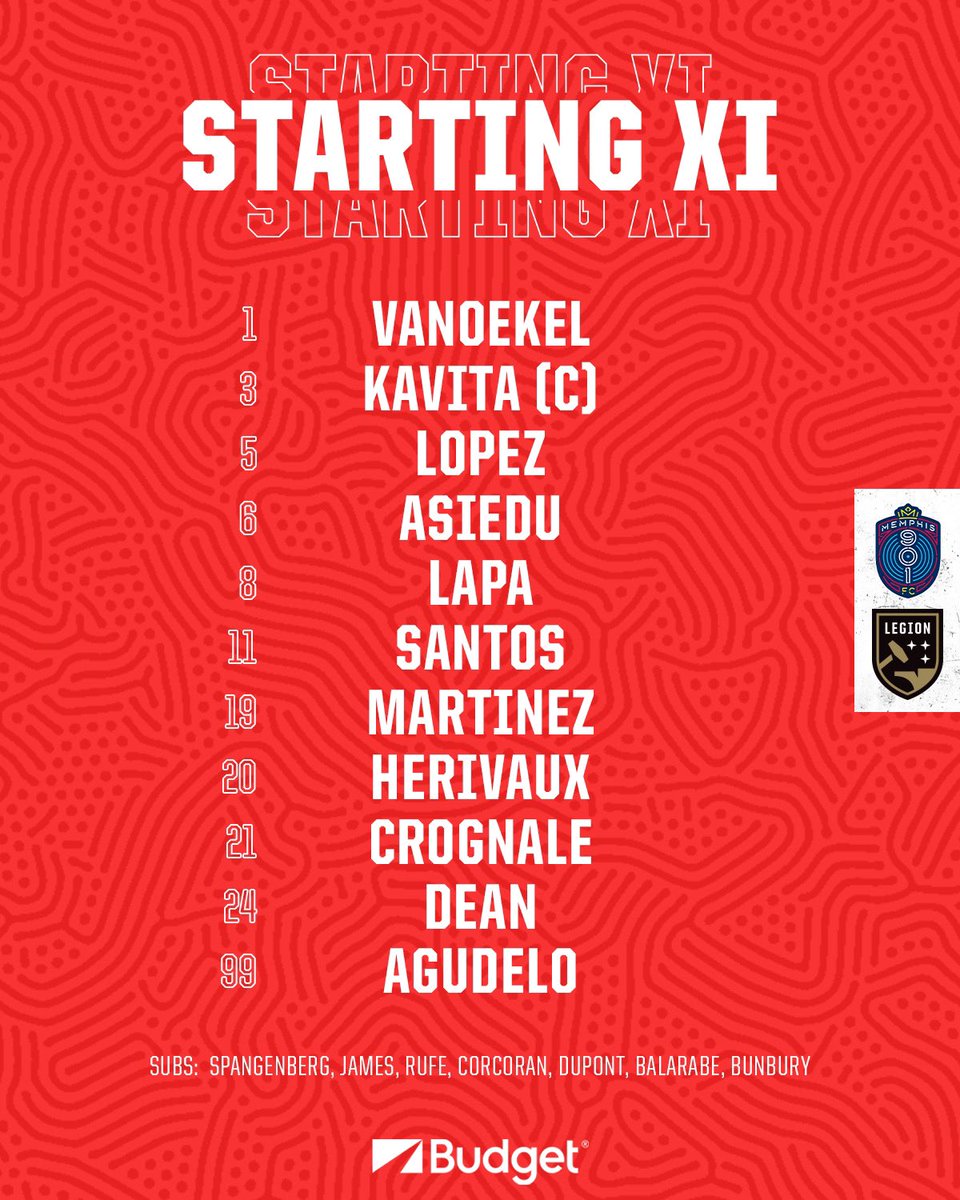 Originally tweeted by Birmingham Legion FC (@bhmlegion) on August 20, 2022.
For many, I believed that it would be a 4-2-3-1 with Asiedu and Herivaux manning the defensive midfield, Martinez as a winger, and Lapa the CAM. That is not the case. We got our official debut of AA6 the winger.
In the defense, we saw Anderson fall in as a central defender. We are very used to seeing him in this role. Legion really utilized this "Narrow-Wide-Narrow" look for everybody except Jonny Dean and Marlon Santos.
Here, you can see Anderson go out wide. EXTREMELY wide. This look was to pull a defender away from the center to open up space in the middle of the field. Because of the emphasis of Marlon, Jonny, Bruno, and Enzo all burning up right side, it would be very easy for 901 to just send bodies on the right side, but that would allowed open spaces out wide or in the middle.
Finally, you see AA6 cut into the middle of the park. This is where he is most dangerous. He can either be a late runner like Bruno Lapa or he can arrive with the ball. He is a very lethal threat. Why did it work? Because Anderson's dribbling is incredible. You have three options.
Foul him
Hope he misses the shot
Try and intercept a pass
This was obvious with the first goal of the match for Legion. Anderson runs inside, the defender tries and dispossessing him, and Ando goes down for a well deserved penalty.
In this heat map, you can see exactly where Anderson was in this match. The BIG green dot on the left is where he was in transition. Why is it so big? Because Legion were constantly attacking the first half. The one goal by 901 was on a breakaway and a misplay by the backline. Other than that? It was all Legion.
What Was Different?
Frankly? Nothing. We went out there and played our game in a smothering press and forced mistakes. I have never seen the team so intense before. The long, long time for guys who have been here since Day One, they have never beaten 901 away. They were hungry. Let's keep that hunger.
Congratulations, Mikey!
Mikey Lopez became Legion's second "Mr. 100!" We're about to see a lot more of those popping up if we keep some more of our guys moving forward. That is a major part of the success of this team. A TRUE core of players that has been amazing for this club and this city.
In Control of Our Own Destiny
With the massive win over Area Code FC and Pittsburgh Riverhounds SC DRAWING against New York Red Bulls II, Legion now have a 3 points lead on the Riverhounds. Meaning Legion can go point-for-point with Pitt and beat the Riverhounds at home, home playoffs are coming to the 205. Come out to every match at home. Every match is a playoff match.
Oh, and…
If you didn't hear, I now have a Patreon! Patreon is a monthly subscription way to help out small creators like myself. My "charges" are $3 and $5 per month. That gives you extra access like my full catalog of goals I've recorded, extra livestreams, and other fun stuff along the way.
It's ALWAYS going to be free to read articles like this one or listen to my podcast. That will never change. That said, if you cannot afford to donate (WHICH IS TOTALLY OKAY!), please consider taking the time and share my content!
Thank you to my Patrons who are already helping me out:
Dillan R.
Matt E.
Harry A.
Sandy L.
Clay G.
Paul H.
Trent W.
Ray M.
Dury S-B.
Thank you!