The Team Chemistry is Off the Chart
Despite going down early in the second straight match, the boys come out and completely dominate the Baby Bulls of New Jersey. The one thing that stood out to me? The team chemistry is insane. On the pitch, you can hear how much the boys are talking and how many times the ball is played before it is even called. This team has gone from Dark Horse to straight up Title Contender.
The Atmosphere
Yesterday started to have the atmosphere we all dreamed off. Having all the fans together on one side, I believe that everybody started getting an idea of just how many people were at the match. The down side? The TV couldn't see it, but honestly, who cares? It felt awesome.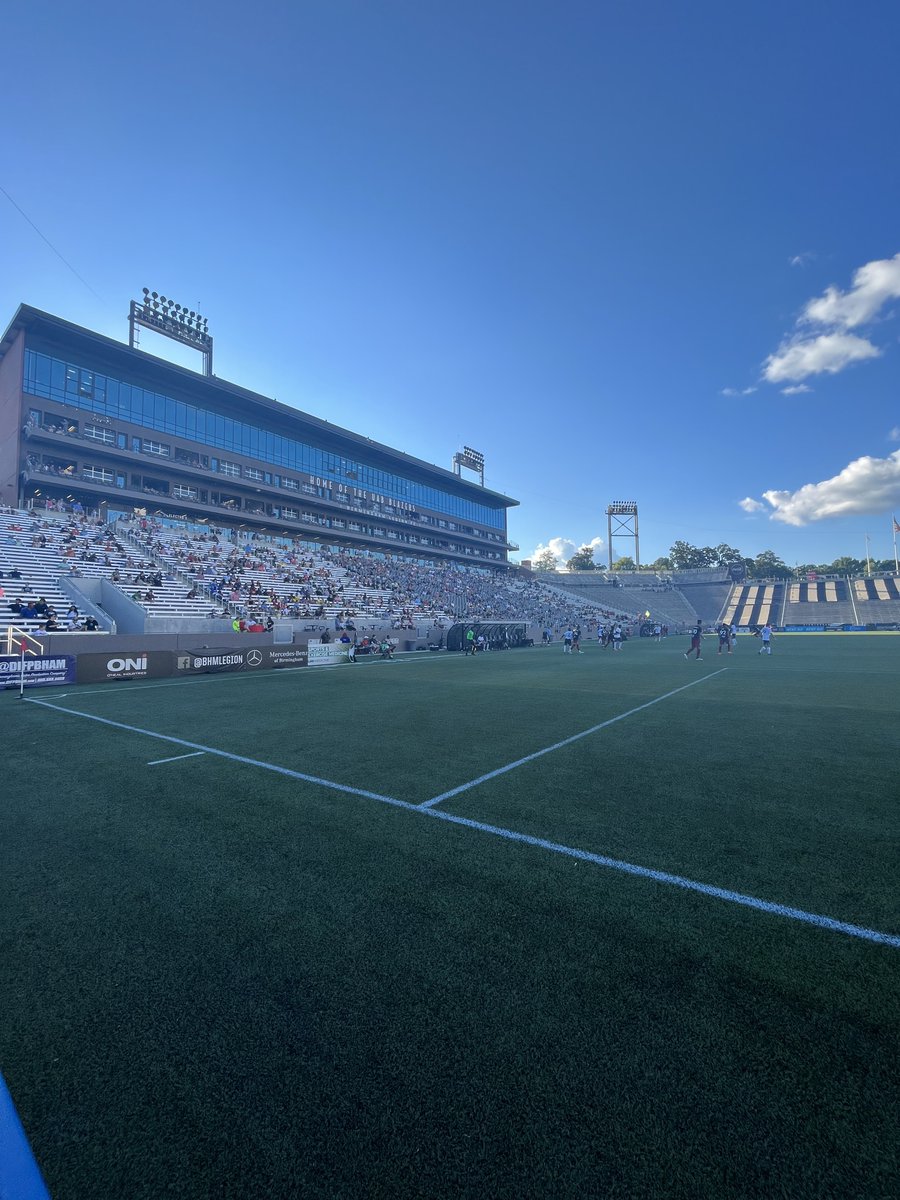 Originally tweeted by Kaylor Hodges (@KaylorHodges) on August 28, 2022.
I had to leave the match early for other engagements and I was walking down the sidewalk of Uptown when Enzo scored his goal. All the people sitting outside all looked over were in shock. Admittedly? I was in shock, too. It was loud. Like, LOUD outside the stadium. I was still wearing my Legion vest and this one girl stopped me and said, "What is going on in there? That is the third time that has happened."
Originally tweeted by Kaylor Hodges (@KaylorHodges) on August 28, 2022.
This is a growing club. When you grow, there are growing pains. There are times that you do not understand your size. You think you are smaller than you are. Sometimes you get clothes that are too big and sometimes you outgrow your old clothes. BBVA are the old clothes. We are officially too big for that stadium. Is Protective still too big for us? Yes, obviously, but we are too big for BBVA (now PNC) Field. That's growth. We're starting to feel that now.
The Chemistry
The chemistry is off the charts on this team. I had my first real moment of, "Woah…" this Sunday watching Bruno Lapa pull the strings. The moment that blew my mind, watching how Bruno and Anderson Asiedu play together. I dare you to go out and watch footage and just focus on the play between Ando and Bruno. It's incredible. Furthermore, the play between Bruno and Jonny, then Bruno and Enzo was awesome. How long were we waiting to see Bruno and Enzo share the pitch together? Now that we've seen it, we need to see it for years to come.
Originally tweeted by Birmingham Legion FC (@bhmlegion) on August 28, 2022.
Obviously personal life happens, but as long as Enzo and Bruno want to stay in Birmingham, they need to be in Birmingham. The way they play together is stunning. On top of this, the interplay between Jonny and any of the wingers is awesome to watch. Marlon and Jonny's relationship on the pitch is beautiful.
Originally tweeted by Birmingham Legion FC (@bhmlegion) on August 28, 2022.
It took a while, but this team is starting to look how we all imaged it. The defensive chemistry is obvious. Between Zach, Alex, and Phanuel, there is almost zero communication truly needed because they know each others' steps just as well as they know their own. It is absolutely stunning.
The Match
Look, the match went about as we all thought it would. While nobody expected to go down early thanks to a penalty call, the final score line is not really shocking. The tactics? They were pretty standard for this New Wave Legion. Press everybody known to man, possess the ball, attack fast, press if you lose it. It's pretty standard. Legion absolutely manhandled the Baby Bulls, giving them a constant barrage of shots to deal with. 24 shots and 11 on target is nothing to scoff at. That does not include Juan's two shots that hit the post.
Personal grief? I wish woodwork shots were considered shots on target. I know they're technically not, but they also seem like they should be.
Bull 'Roid Rage
Ever wonder what goes in a Red Bull? Go ahead and look up why there is a Bull on the logo of a Red Bull. The players and coaches all appeared to have the 'Roid Rage going. Between Ando giving a piggy back ride, Baby Bulls getting some handbags out early, and their coach not wanting to shake Tommy Soehn's hand, the rage was in full force for the New Jersey Crushed Cans.
TL;DR: Sucks to suck.
The Last 7 Matches: Hunt for the Playoffs
Between Detroit City FC, Tampa Bay Rowdies, The Miami FC, Pittsburgh Riverhounds SC, and Legion FC, there's no question that Legion have the hardest remaining schedule.
The easiest matches left? Indy Eleven TWICE and Oakland Roots AWAY.
What is the remaining schedule?
September 3rd
September 10th
September 14th
September 23rd
October 1st
October 9th
October 12th
@ The Miami
@ Indy Eleven
Pittsburgh Riverhounds
@ Tampa Bay Rowdies
@ Oakland Roots
San Antonio FC
Indy Eleven
Away to The Miami, Tampa Bay, and Oakland are three of the hardest away days a team can do. A Pittsburgh team who has the the best scorer in USL history in Dane Kelly and arguably the best coach of all time in Bob Lilley. Indy Eleven who has been improving every single week after a poor start. Oh, an San Antonio who is arguably the best team in the USL.
OH, and Tampa Bay, Pittsburgh, and The Miami are all gunning for the same home playoff spot we are. It's going to be a long seven matches.
What is a Successful 7 Match Stretch?
Frankly, we dug ourselves a bit of a hole with losing to Detroit City. We can only afford to drop 6 points out of the next 21. On top of that, those lost points CANNOT come against Pittsburgh or The Miami. So, we are afforded
2 losses
1 loss, 1 draws (only 5 points, but cannot afford another draw)
3 draws
Obviously, I want to win out, but that's just not realistic. Let's see how this shapes up…
If you didn't hear, I now have a Patreon! Patreon is a monthly subscription way to help out small creators like myself. My "charges" are $3 and $5 per month. That gives you extra access like my full catalog of goals I've recorded, extra livestreams, and other fun stuff along the way.
It's ALWAYS going to be free to read articles like this one or listen to my podcast. That will never change. That said, if you cannot afford to donate (WHICH IS TOTALLY OKAY!), please consider taking the time and share my content!
Thank you to my Patrons who are already helping me out:
Ben M.
Andrea T.
Dillan R.
Matt E.
Harry A.
Sandy L.
Clay G.
Paul H.
Trent W.
Ray M.
Dury S-B.
Thank you!