Most Exciting Disappointment Ever
PS: Thanks for the title, Screaming Chicken.
A team only inspired after going down 3-0 is embarrassing. That's the best way to describe the first 30′: Embarrassing. 3-1 going into half in a match that we need to win is not good enough. Never good enough.
All that for Marlon to have his best match in a Legion shirt, Enzo show how to take a proper pen, and draw the match back to level at 3-3. But it should have never been 3-3. It was defensive breakdown after defensive breakdown and an offense that didn't feel like pressing as a team. From there, Legion scored 3 goals in a row, but it is all for not as Indy take the lead once again.
It's a complete disasterclass in the 30′ and the real Legion showed up for 60′. Too little, too late. Let's get stuck in.
No Press, No Points
There's a lot of issues with the first 30′ of the match. Obviously Man Marking and Set Pieces put us down early, but even before those goals, Legion didn't have a heartbeat anywhere in the midfield or attacking third. Where was the issue? We were a ton, but to me, it's the fact we were once again playing so deep that we could not create any chances. Especially with Juan playing as deep as he did.
In the "press" for the first 30', we saw @CoachMarkLowry's narrow midfield make Legion make hard decisions on pressing. We saw our wings zone marking their wings, but it left that narrow midfield so many options to pass.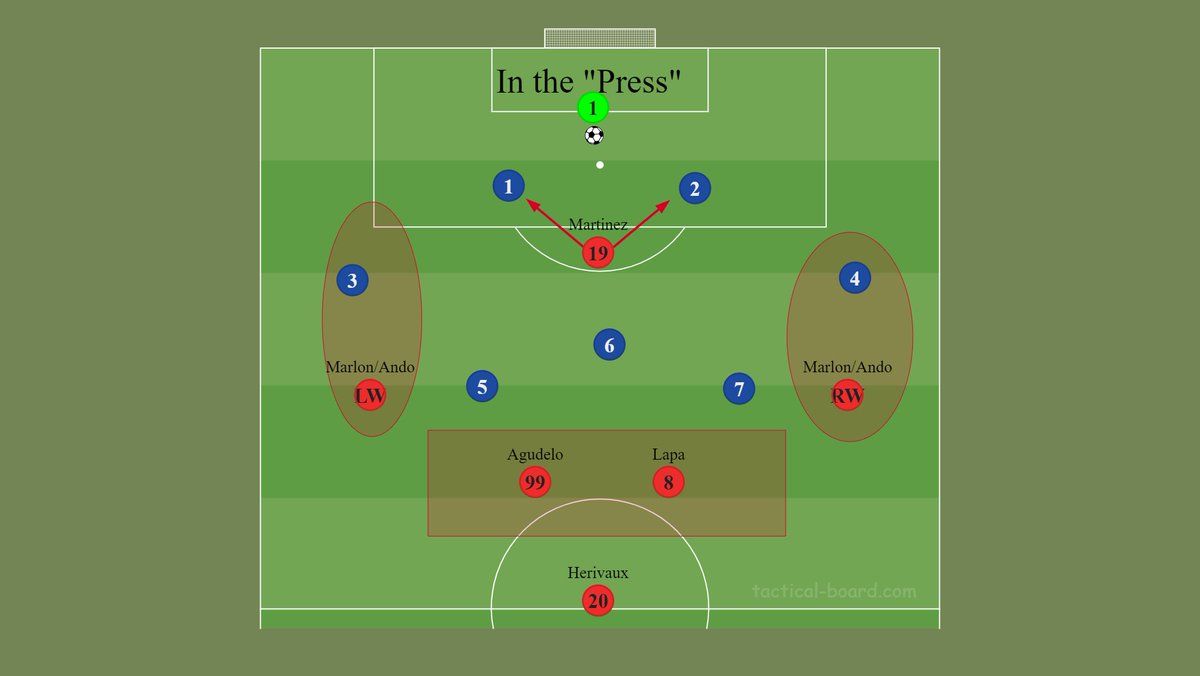 When Enzo would press, nobody else would step up. Part of that was the team coming out very flat, the other part is that their midfield has 7 true options to pass to in this position. Side-to-Side, to the fullbacks, back to the keeper, or progressive to the midfield.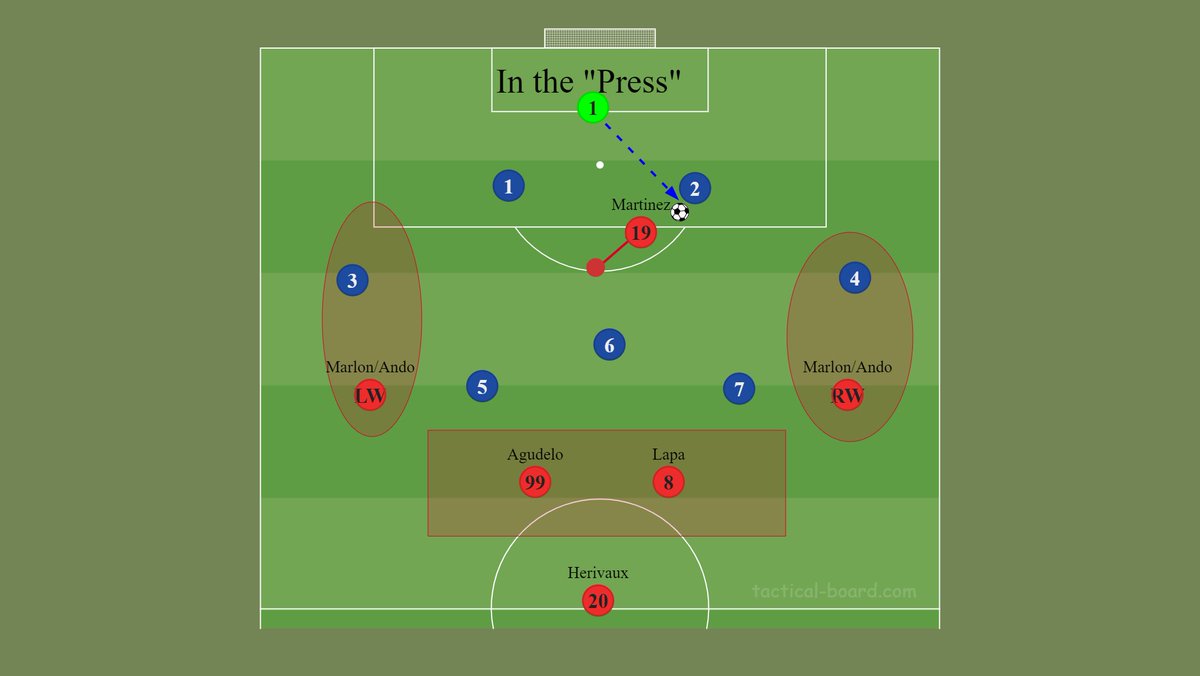 When they would go side to side, Enzo being the only presser would be out of position for the other CB, leaving that CB three true options directly in front of him and tons of time to pick out a long ball. How would I fix this? Fight Fire with Fire.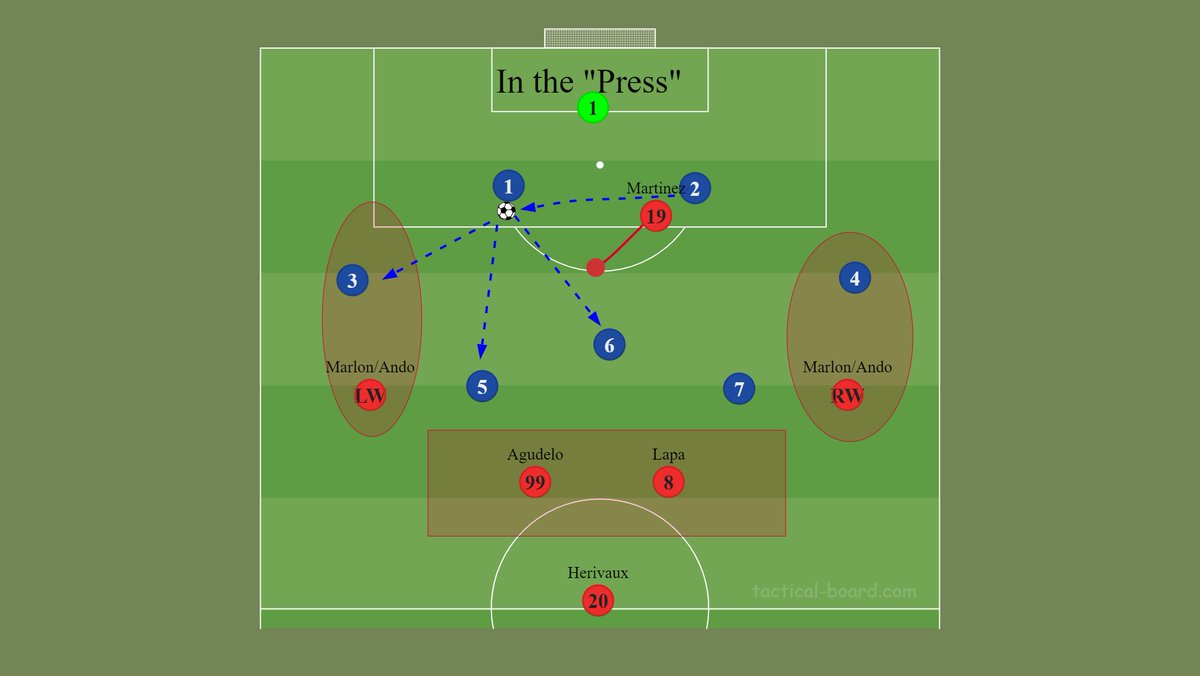 The way to beat this system is by trying to BE @CoachMarkLowry, but in the press. Narrow the wings and push up your seconds striker (Juan Agudelo). Anything that gets past this press can be cleaned up by our fullbacks or center backs.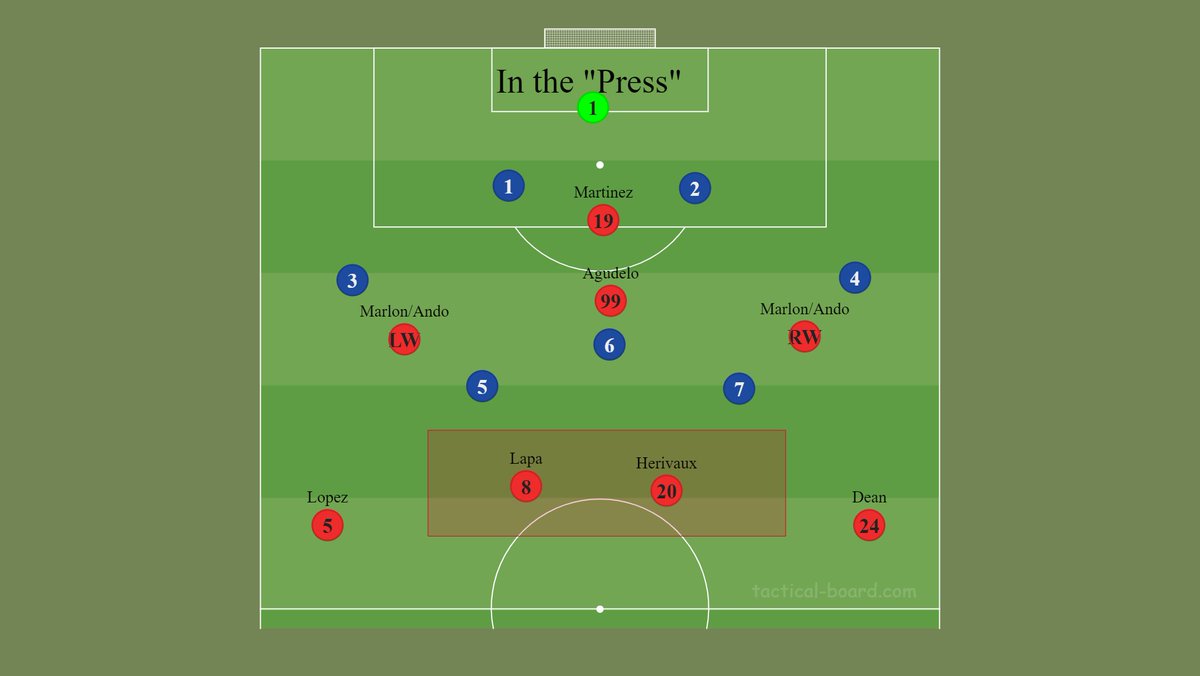 Lets revisit the same situation with CB1 (Jerome) with the ball. When you narrow the wings, Ando/Marlon can try and cut off the passing lane and if they miss, Bruno/Mikey can come cover that mistake by picking up the man. By moving Juan up, CM6 (Brown) is no longer even an option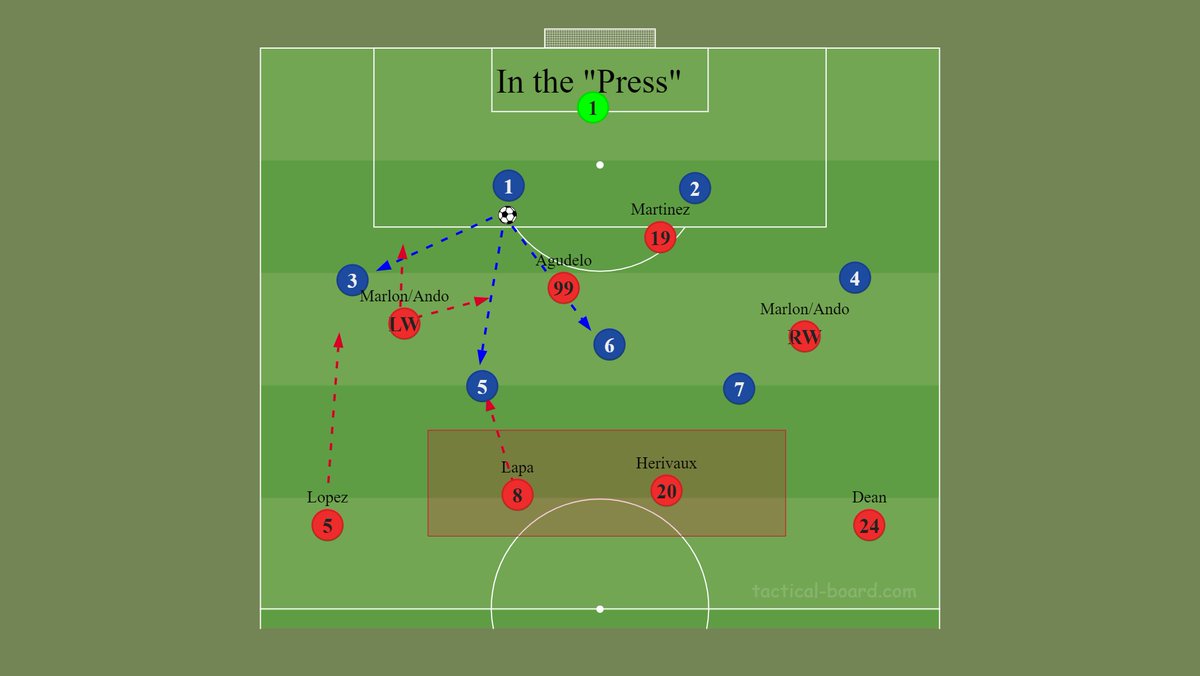 This is why playing Juan so deep is an issue. Obviously his hold up play is incredible, but what use is he when we cannot win the ball back? This team was absolutely at their best when we would press like crazy, let Juan clean up the scraps, and thrive afterword. That's exactly how we broke down the San Diego Loyal, arguably one of the best teams in the USL. That should always be the system moving forward.
Set Pieces
John Morrissey breaks this one down. It's simple, don't man mark a 6'1″ player with guys who are 5'6″ and 5'8″.
The star turn for Hackshaw came on two early corners. BHM defended with a 5'8" and 5'6" player at the far post, so IND isolated the Trinidadian against that pair two times running. The result was a quick brace.

John Morrissey
It looks like Alex is sitting in a zone while Phanuel is man marking Pinho. If that is the decision, with the help of hindsight, that just does not make sense to me. The second looks like Alex is moving to man mark Hackshaw but got lost in traffic.
What Changed?
The move to the 4-2-3-1. Ando dropped deep with Zach Herivaux, Enzo went out wide, Bruno pushed up as the CAM, and Juan went up top. Pushing up Juan was the difference. While he only had the one shot all night long, his ability to hold up the ball and lay the ball off to Marlon or Enzo, the team looked so much more fluid.
Now What?
Simply put, we must win out. To start this last 7 match stretch, I said the 3 Sparks could only afford to drop 6 points and win a home playoff game. Well, 2 matches in and we've dropped 5 points. With 15 points remaining against the best team in the USL, a flaming hot Indy IXI team, our playoff rival Pittsburgh, and two of the best home field advantages in the USL, Tampa Bay and Oakland. We cannot afford to even draw those matches.
3 home matches left: Pittsburgh THIS WEDNESDAY, San Antonio FC, and Indy Eleven to end the season. Every game is a playoff game. For the coaches, for the players, for the fans. It's playoffs. Nobody can afford to stop showing up. If you, the reader, cannot come to the match, find a way to give those tickets away. Every game is playoffs.
If you didn't hear, I now have a Patreon! Patreon is a monthly subscription way to help out small creators like myself. My "charges" are $3 and $5 per month. That gives you extra access like my full catalog of goals I've recorded, extra livestreams, and other fun stuff along the way.
It's ALWAYS going to be free to read articles like this one or listen to my podcast. That will never change. That said, if you cannot afford to donate (WHICH IS TOTALLY OKAY!), please consider taking the time and share my content!
Thank you to my Patrons who are already helping me out:
Ben M.
Scot L.
Dillan R.
Matt E.
Harry A.
Sandy L.
Clay G.
Paul H.
Trent W.
Ray M.
Dury S-B.
Simon I.
Matt A.
Zach F.
Thank you!