A Virtually Perfect Performance
From the new formation, the game plan, the system, the execution, and the post match festivities, it was a perfect night in the Magic City. We saw Enzo and Juan have the best matches in their short Legion career. Prosper celebrated 100 matches with the club with a goal and assist. Marlon tore apart the Atlanta backline with ease. Sadik looks dangerous.
Before we get stuck into the match…
Shameless plug, I know. I have recently started a Patreon! Patreon is a monthly subscription based website for content creators can get paid for their work. Let me say this first: ALL ARTICLES WILL REMAIN FREE. ALL PODCASTS WILL REMAIN FREE. If you don't have the money or simply don't want to pay, that's completely fine!
If you do want to choose to support me and my work, you'll get:
Shoutouts at the end of every podcast and article
Full Access to my Google Drive to save all goals and post match stuff I film
Extra content like livestreams, Q&As, and other extra works
Again, it's not required! It never will be. That said, it will help me pay for other content like paying for StreamYard, new equipment, and even this website itself.
Plug Done.
Predictions
Pre-Season, I took the hot take that Legion would win this match. Brave, I know. In my Pre-Match Preview, I said Legion would win 3-1. I thought our offense would thrive, but their offense when it's right, is REALLY good. We made them look beyond bad. I could have never seen 6-0 coming, to be honest.
New Formation, Instant Results
Last night, we saw a new formation come out for the 3 Sparks and it's a COMPLETE game changer. We came out in the 4-1-3-2, which allowed Enzo to play as the shadow striker, Bruno to be our playmaker, and Juan to reap the benefits of having a striking partner.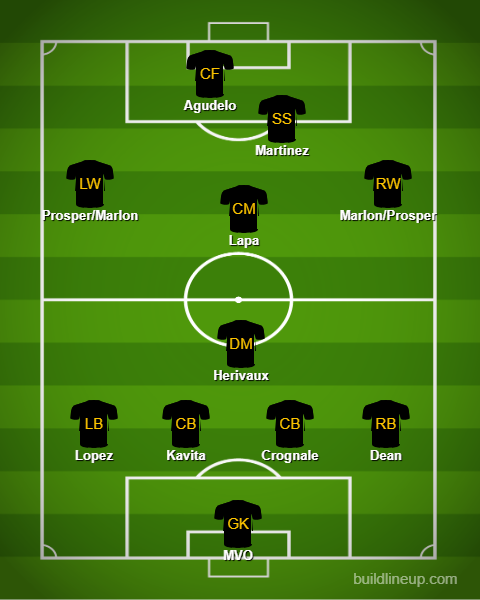 Not going to say "I told you so." but I did post this formation on Twitter last week saying it would be the secret to unlocking our full potential. See, I'm not a complete idiot!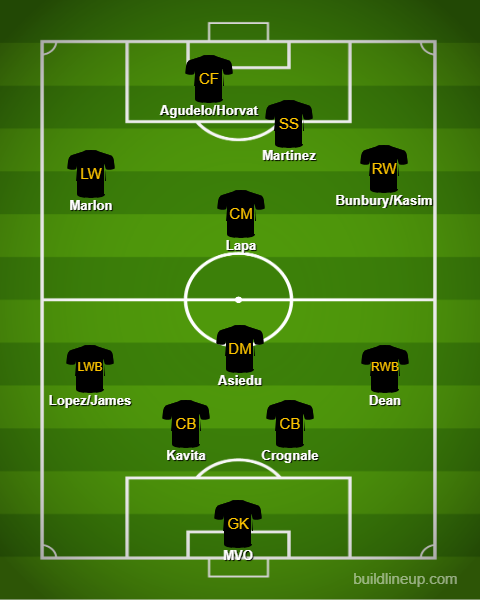 Why Did the New Formation Work?
Simply, it allows for more pressing, quicker attacks, and puts our best players on the pitch. In the graphic down below, it shows how the first goal came to be, in a VERY messy way.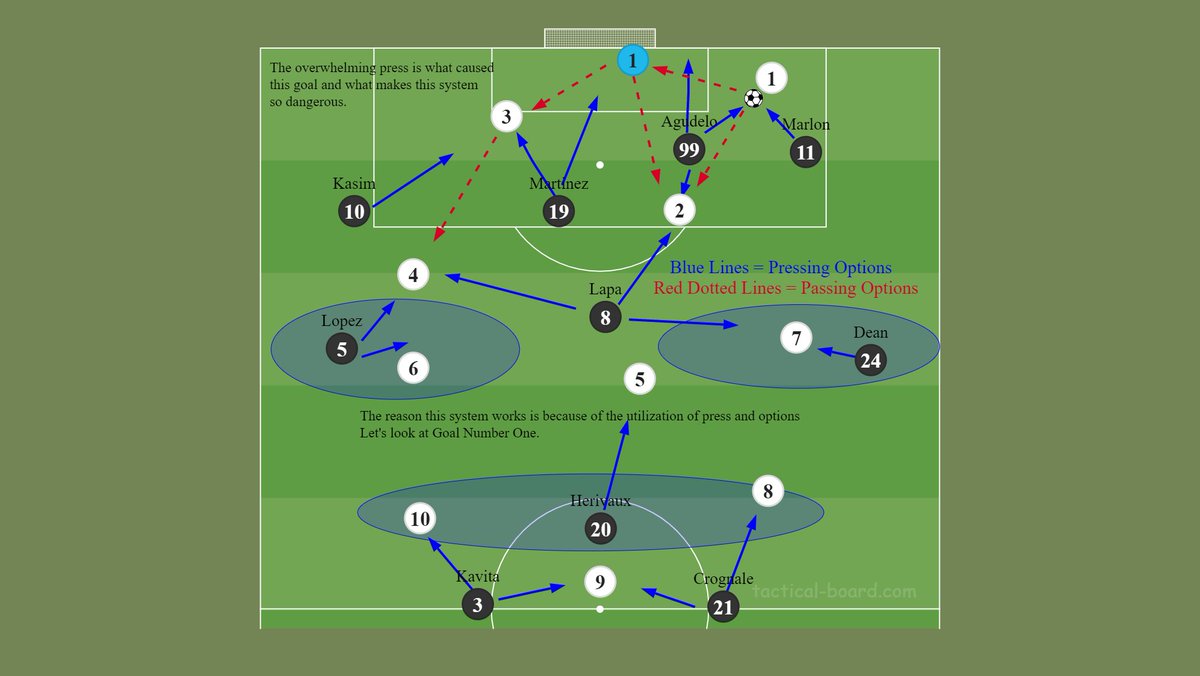 We saw Marlon press the ball handler, who only had three options because of the press.
Retreat and hope somebody opens up
Pass back to the keeper
Clear it long and relieve a little bit of pressure
He chose option 1 because 2 and 3 are equally as risky. This is how it turned out:
Originally tweeted by Birmingham Legion FC (@bhmlegion) on August 7, 2022.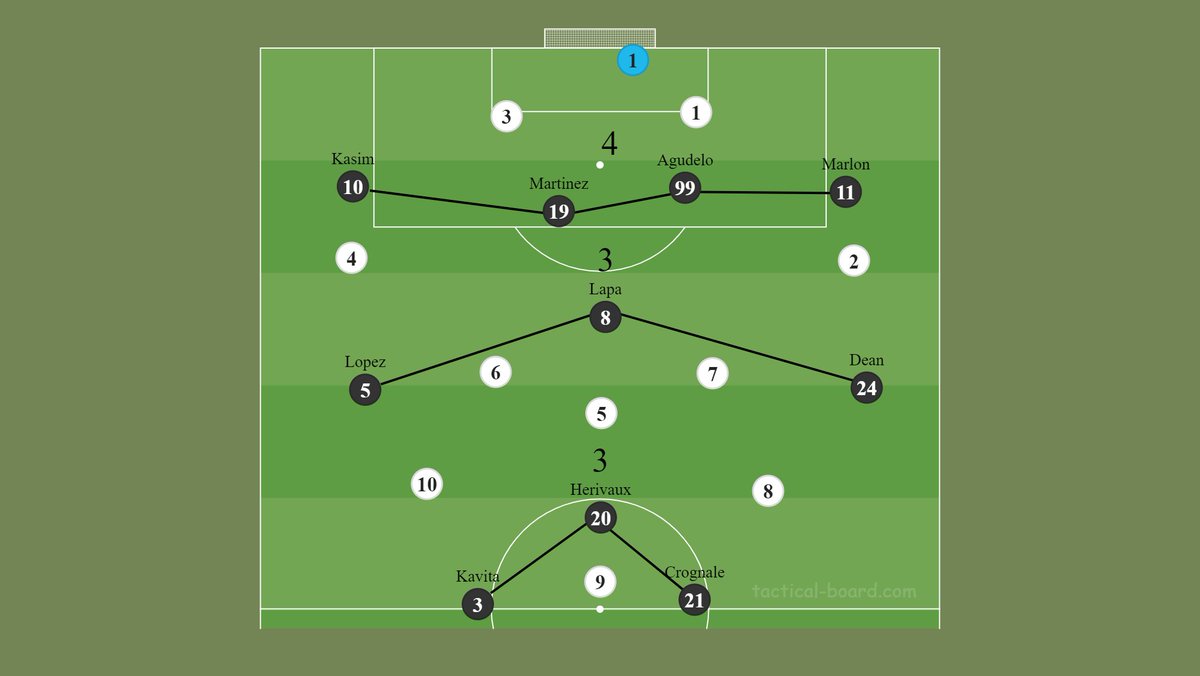 To make it a little clearer, Legion were playing a 3-3-4 when pressing the ball and quickly counter attacking. We saw Marlon, Enzo, and Prosper actively pressing almost all night as Juan and Bruno were cleaning up scraps from that pressure. Dean and Lopez were in pouncing positions so help spring that counter attack if need be. Herivaux was acting as a third center back OR as a deeper center mid, depending where the ball was on the pitch.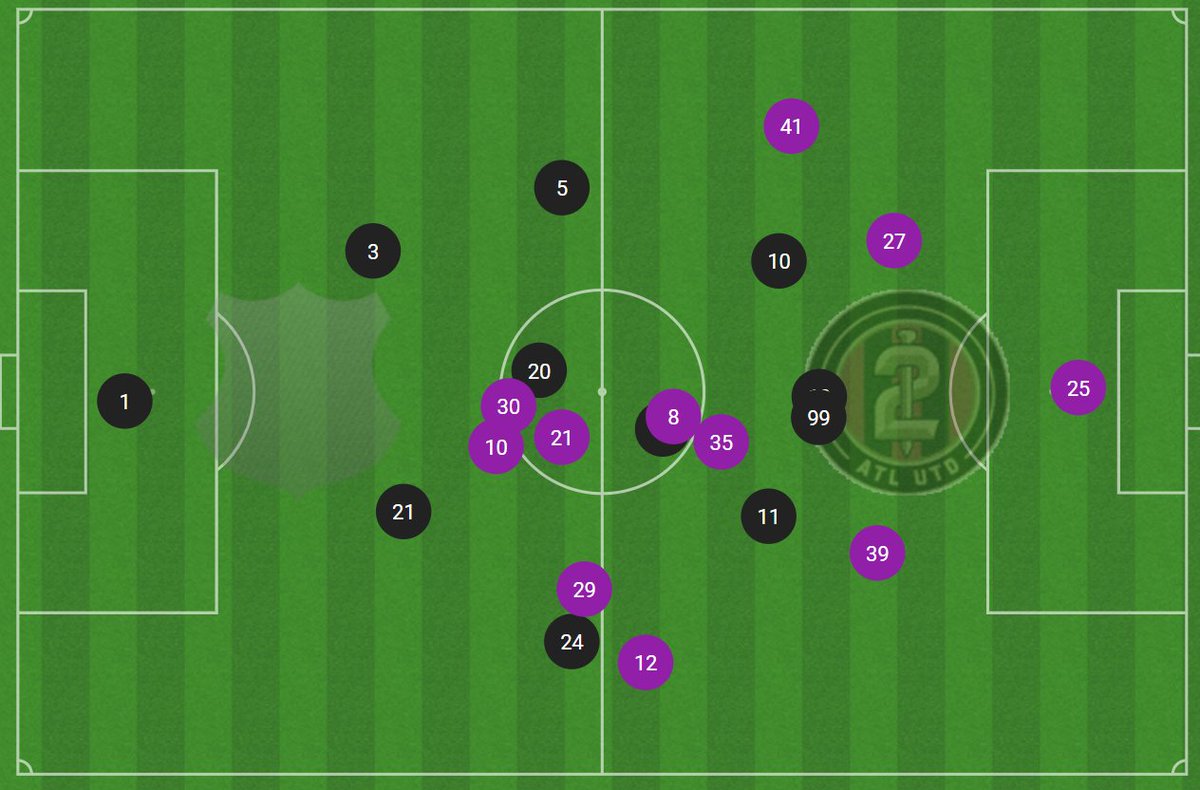 If you take a look at Legion's AVERAGE POSITIONING (in black) on the night. We pressed their players like CRAZY. Jonny and Mikey were playing as midfielders for majority of the match, never allowing their backline to catch a break as they were CONSTANTLY under pressure.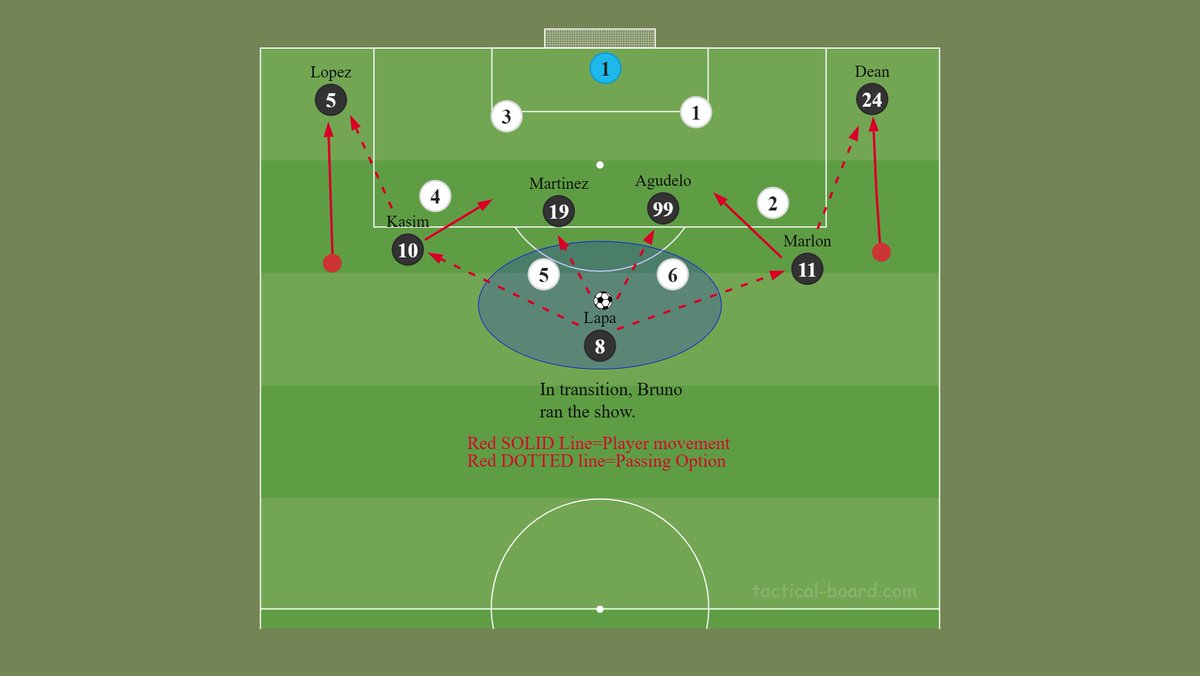 When the 3 Sparks were in transition, Legion's game ran through Bruno Lapa. While he did not get credited for an assist or a goal, his ability to go full playmaker allowed Legion's offense to exploit every single inch of the pitch. Which, I need to remind everybody just how good Bruno Lapa is…
If you want to see this kind of play in action, look at the fourth goal by Legion on the night. The ball is played to Bruno, who plays it out to Marlon. Marlon decides to play it wide to Jonny. Jonny makes his run and CROSSES THE BALL IN THE AIR to Juan Agudelo, who shows his composure and slots it in the left corner.
Originally tweeted by Birmingham Legion FC (@bhmlegion) on August 7, 2022.
I've been calling for it ALL YEAR, but crossing the ball in the air to our massive forwards like Edi, Juan, and now Sadik allows us to take advantage of one of the two things you cannot coach: size. The other? Pace. If we continue to utilize this system and pass the ball in the air, we are fully realizing our strengths and it could be a long season for every other team we play.
It also cannot be understated just how good Juan Agudelo was in this match. We truly utilized his strengths against Atlanta United 2, and that is his passing and shooting. His dribbling is great, but that touch to Enzo in BOTH goals was pure perfection.
Finally, John from USL Tactics said it, but Marlon was an underrated star last night, as he had been all night. His goal was clinical, but the pass from Prosper was PERFECT. My word, we are starting to see how great this team can be.
Long story short, the 4-1-3-2 with a high press is the tactic going forward. This is the way to winning and I could not be more excited.
Another Donut
This wasn't a performance that had our defense standing on their head. This was not a performance where Phanuel, Alex, Jonny, or Mikey had to make an insane tackle. This was not a performance that Matt VanOekel bails us out with another worldy of a performance. This defense allowed only 4 shots on the night. FOUR. ALL 4 came in the second half and NEVER even came close to challenging VanOekel.
This Legion defense stopped this talented Atlanta United offense from even penetrating the final third. It was that level of dominant. Good defenses keep clean sheets. Great defenses never even allow the other team the chance. This is a GREAT defense.
Post Match Magic
Last night was another night of Post Match Magic. 6-0 wins are awesome. These moments with our youngest fans, with our most passionate supporters, and even our own children are what last forever.
Our two leaders embracing after a match like that is something EVERY fan should be excited to see.
Bruno Lapa is absolutely loved in this community. I don't know what it will take, but sign him here forever. Just look at the way he interacts with these kids. He does this with everybody.
Even after 4 years, Prosper still takes the time and talks to every single fan around the grounds. His talent may give him a starting spot, but his heart is what makes him adored. Thank you, Prosper.
MVO, our Donut King, our Number One. He's always made time for anybody who wanted to chat. Another guy who has been here since Day One and we wouldn't trade him for the world.
Anderson, as always, is a fan favorite. I feel like I'm saying that a lot. It's almost like Coach Soehn and President Jay Heaps bring in top tier talent AND top tier people. It's something that does not go unnoticed.
Hey, kid! We have an Academy! In about 6 years you'll be our top goal scorer, and we'll show you this video. These moments truly will last forever.
Finally, welcome to Birmingham, Sadik. It's early, but it already feels like you will be a hero in the 205. Alex and Sadik meeting for the embrace is something that means a lot. He's only been here two days, but he's already a part of this family.
Post Match Interviews
In these post match interviews, I chatted with Mr. 100, Prosper Kasim, Enzo Martinez, and newcomer Sadik Balarabe.
First up is Prosper Kasim who talks about what it means to get his 100th appearance for the 3 Sparks.
I talked to USL Veteran and Player of the Match, Enzo Martinez. We discussed how massive these next three matches are and how to keep everybody in the current moment.
Last up, we have Sadik Balarabe who talks about his flight over, his experiences here in the States, and being a … Manchester United fan?!
Final Thoughts
We are coming into crunch time. We NEED 7 points from these next 3 matches to help secure our own destiny for a home playoff match. We need EVERYBODY there, so go ahead and buy your tickets NOW! San Diego Loyal (August 13th), Detroit City (August 17th), and Memphis 901 FC (August 20th).
Invite friends, family, co-workers, anybody. Tell them that Landon Donavan is coming to Birmingham, tell them about the "mythical Detroit City" will be at Protective Stadium, tell them about how we've scored 12 goals in 2 home matches, tell them anything. They need to be here.
Why? Because I've said it at the end of every single show and article:
It's Home Playoffs or Failure