Tactical Consistency and Playing to Our Strengths
These last 7 days, we have seen two different teams. One that loses 2-0 to FC Tulsa and wins 1-0 at Hartford Athletic, and the other beat Loudoun United 6-1. We saw a team who struggled to breakdown defenses and another who would force the other team to be better athletes. What's the difference? How can one team be so bipolar? It all hinges on pressing the ball.
Let's Talk Hartford
To begin this match, we went full "dribble ball." What is "dribble ball?" Dribble Ball is when the team priorities slowing the ball down to beat their man, instead of utilizing speed. The dribble means that they're using their dribbling ability to beat their man.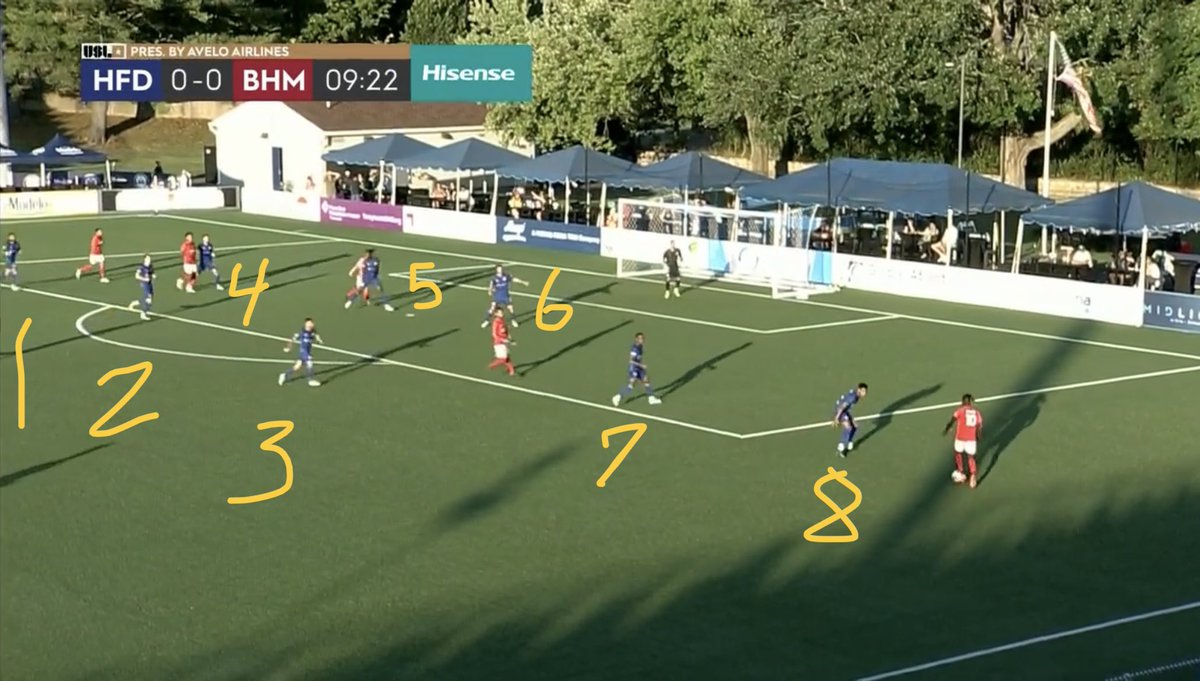 Originally tweeted by Kaylor Hodges (@KaylorHodges) on August 1, 2022.
Check out how we allowed Hartford Athletic to get organized behind the ball. When Legion are having to attack 5 vs 8, not including a goal keeper, you need either speed or elite off the ball movement to breakdown that defense.
For an example of how dribbling ruined our attacks, I'll show an example my friend John Morrissey posted on Twitter the other day:
"After that rip-roaring LDN game, BHM struggled to break down an organized HFD 4-2-3-1. Build wasn't bad; @alexcrognale's carriage freezes the winger, allowing Dean to play an entry pass. It's worse from there. Agudelo slows everything, the spacing is poor, and the move sputters."

-John Morrissey
The biggest point that John makes is that we were just simply slow. Juan looked slower than normal. We were unable to capitalize on attacking opportunities because of this. Instead of utilizing the speed of this squad, we had to slow the ball down in order to create chances.
In this clip down below, we see the Legion backline win the ball, and immediately move to counter. The issue is that there just was not any speed to this counter. Hartford had enough time to go back and recover from mistakes and stop this Legion attack.
As the team moved on, we would concede possession, but never press to win the ball back. That's the biggest difference in the match prior to Hartford, Loudoun, and Saturday night Connecticut. While Legion dominated possession against Loudoun, it was because Legion forced mistakes and won the ball back immediately. You can play possession based soccer and still pressure the ball effectively. Legion did neither against Hartford.
Finally smelling blood in the water late, @bhmlegion pressed into a 2-4-4 shape. Here, Marlon uses his searing pace to addle Oettl, forcing a poor pass that @Enzo_Martinez90 intercepts and knocks home. This was the energy the Legion needed all night, but three points are enough.

John Morrissey
Originally tweeted by John Morrissey (@USLTactics) on July 31, 2022.
On this final play, Marlon forced the mistake, Enzo read the mistake as it was happening, and slotted it away. It seems like a keeper mistake, but Marlon was intelligent in his press. If you look, he cuts off the long clear, forcing the keeper to play it short. The Keeper only has two options to pass to, and Enzo was in the perfect spot to react to either.
This play was created by intelligence and pressing. This is a system we need to utilize. This is how we should be playing every single night. This is what we did against Loudoun. Possess the ball, if we lose it, pressure the ball carrier, force mistakes, and pounce on the counterattack. If we continue to move away from this, we will see ourselves slip farther away from a home playoff match.
Let's Talk About Bruno…
Did I title this section that just to plug this song? 100%. It's a banger. Sue me.
But seriously, let's talk about Bruno. Bruno Lapa just went out and scored the first hat trick in Birmingham Legion FC History. Not bad. And it was an impressive hat trick.
Originally tweeted by Birmingham Legion FC (@bhmlegion) on July 28, 2022.
He was picking out the bottom corner like an absolute sniper. His ability to drop a ball anywhere really made me think: Who in the USL is most comparable to Bruno? So, I reached out again to John Morrissey and asked what the numbers said. You'll be SHOCKED at how good Bruno Lapa is.
This card is his stats compared to other Attacking Midfielders in the USL. His ability to create shots, his xG (expected goals from those shots), xG, and passing is ELITE. How elite?
The two players above are Leo Fernandes and Diego Luna. This is a Leo Fernandes who is the consideration of top midfielder in the USL every single season and recently won Player of the Month. The other play is Diego Luna who is the star of the United States Youth National Team and was recently bought by Real Salt Lake for a staggering $250,000!
Bruno Lapa is comparable to these two. Bruno has a similar xG and xA and a superior passing percentage than a recently Player of the Month and the USMNT's brightest young star.
Want me to cut to the chase?
Bruno Lapa NEEDS to be a starter in this team.
Originally tweeted by Birmingham Legion FC (@bhmlegion) on July 28, 2022.
The question then becomes how do you fit him in this team? To me, it's very simple.
With going with one defensive midfielder, we can effectively press even more. With Enzo Martinez going up as a shadow striker, where he's been playing all season any way, he would give a second striking option for Legion. This would allow Juan to run less, be in better positions to shot without having to dribble to create space, and allow others to press the ball all match long.
This also gives Bruno a ton of space to control this midfield and we can properly exploit space. This can become a 2-4-4 so quickly with Asiedu, Lapa, James/Mikey, and Dean joining the midfield, that we would be able to counterattack quicker than ever.
This would also allow more rotation with Mikey or James, Edi or Juan, Zach Herivaux, and Prosper or Mataeo to come on off the bench. This would utilize rotation and give the team 4 proper "super subs."
These Next Four Matches Decide Our Season
In our next four matches, the 3 Sparks take on Atlanta United 2 (August 6th), San Diego Loyal (August 13th), Detroit City (August 17th), and Memphis 901 FC (August 20th). With wins against 901 FC and Detroit City, Legion put themselves in a position to host a home playoff match. That said, we need 10 points in these next four matches with wins against Detroit City and Memphis, or else a home playoff match will be fully out of our hands.
As I've said before and I'll say it again:
It's Home Playoffs or Failure.