Another Typical Legion Home Match
For the first time in 112 days, Legion had a Saturday home match and we looked exactly like we did in that fateful match against Louisville City FC, lost. Offensively, the team did nothing to create chances against a backline that was happy to sit in front of the net, yet that is not what frustrated me the most on the night.
Dear Players and Coaches
I know last night was a tough one. It was frustrating, emotions were on high, and it was a disappointing night. Nobody worked harder than you did last night. You deserve to be angry and let that emotion pour. That said, despite being closer to the pitch than ever, supporters have never felt so far away from you. Only a handful of players even went past the halfway line to clap for the supporters section. Only three went past the 18 yard box. Only ONE, Jonny Dean, went past the advertisement boards to clap and say 'thank you.'
This is not a new problem. Only one player, Enzo Martinez, clapped for the away fans who travelled to Louisville City. After the Memphis match, only Anderson Asiedu went past the advertisement boards to say 'thank you.' These fans have spent their time and money for you. They love you.
Players and Coaches, if there's changes you want to see from the supporters, let them be known. If there's conversations you want to have, go and have them. If there's a request, get in contact with the supporters, but right now they feel ignored. What was once a beautiful relationship has been slowly dying and the fans do not understand why. If you want to see change, it needs to be known, or else it will never happen.
What Went Wrong?
In this article, I'm not going to talk about reffing. For these purposes, it's a complete non-factor to me. Obviously going down to 10 men sucks, especially since it should not have happened, but it does not change the fact Legion did not DESERVE to win.
Below is an interview I did with Enzo Martinez on MAY 19TH, after a 0-0 draw against Las Vegas Lights. Vegas sat deep and absorbed pressure all night and made it very compact in the box. Sound familiar? Last night, Tulsa had a 3 Center Back system that forced Legion's attackers out wide and made it difficult to break down.
Originally tweeted by Kaylor Hodges (@KaylorHodges) on May 19, 2022.
Last night, Tulsa had a 3 Center Back system that forced Legion's attackers out wide and made it difficult to break down. Let's check it out.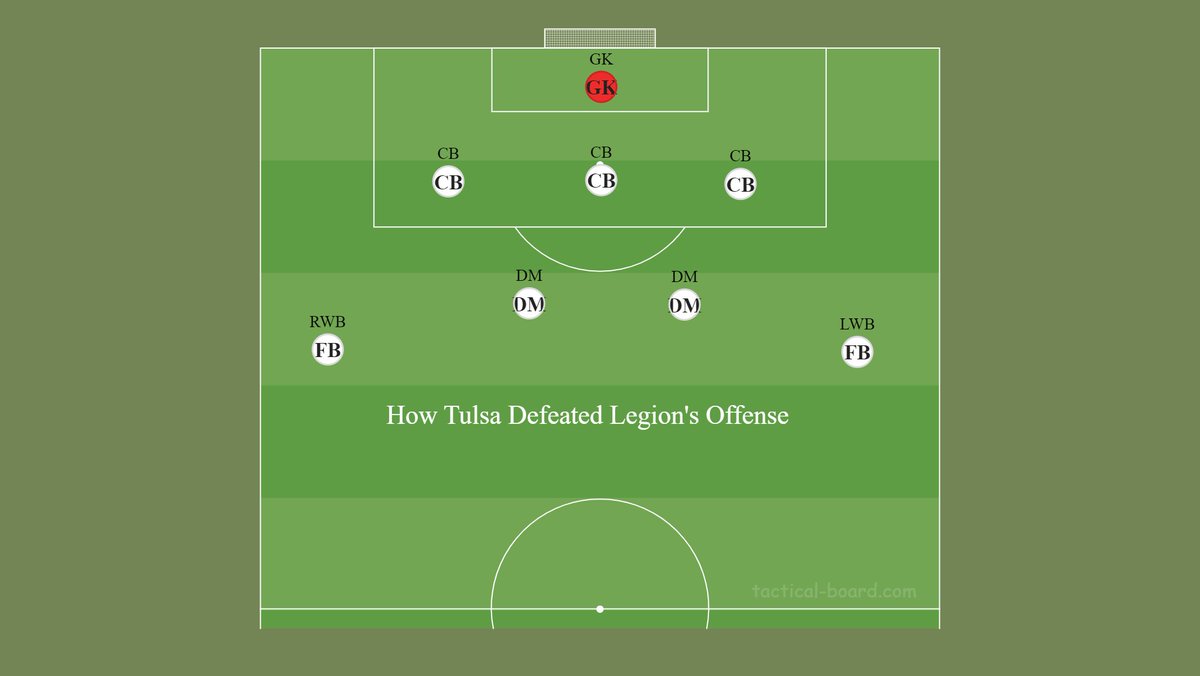 For simplicity, this is our general offense. Marlon and Prosper switched sides all match so really just pick your favorite in each spot, it doesn't matter too much. When it comes in terms of passing the ball, I have Prosper on the left and Marlon on the right, but it doesn't really matter much.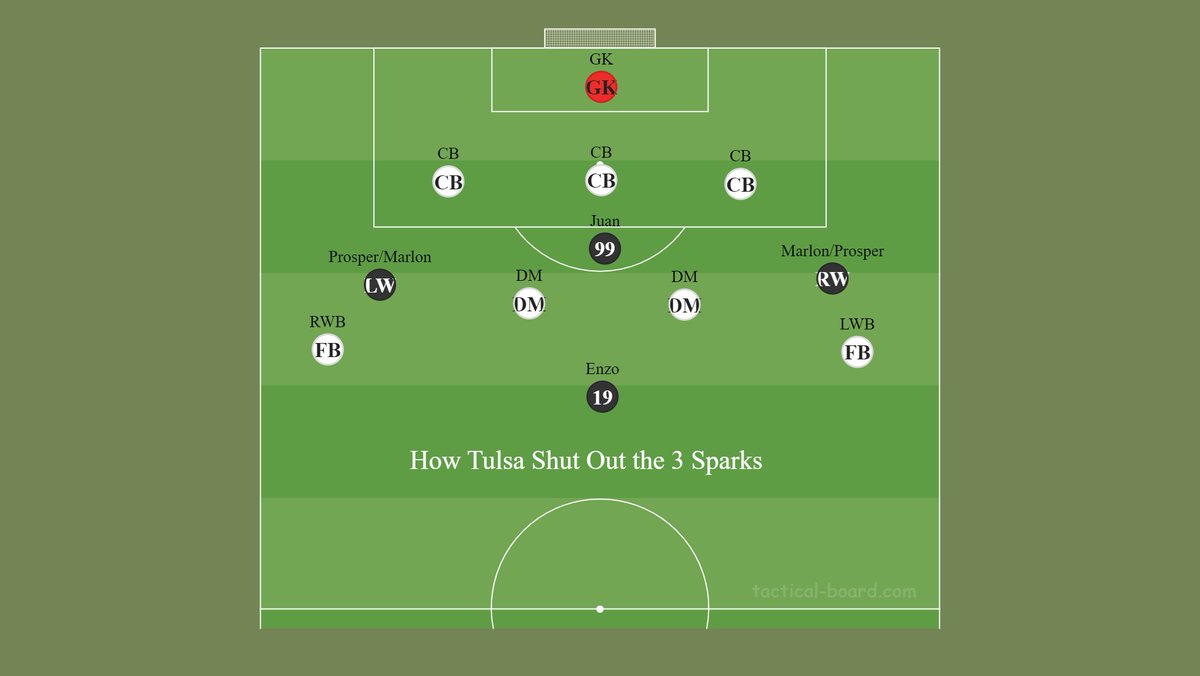 With Tulsa's 3-4-3, it very easily turned into a 7 man back line. As you can see, their first responsibility is to clog any immediate shooting lane. Think about a defensive lineman clogging up running spaces to stop an offense in American football.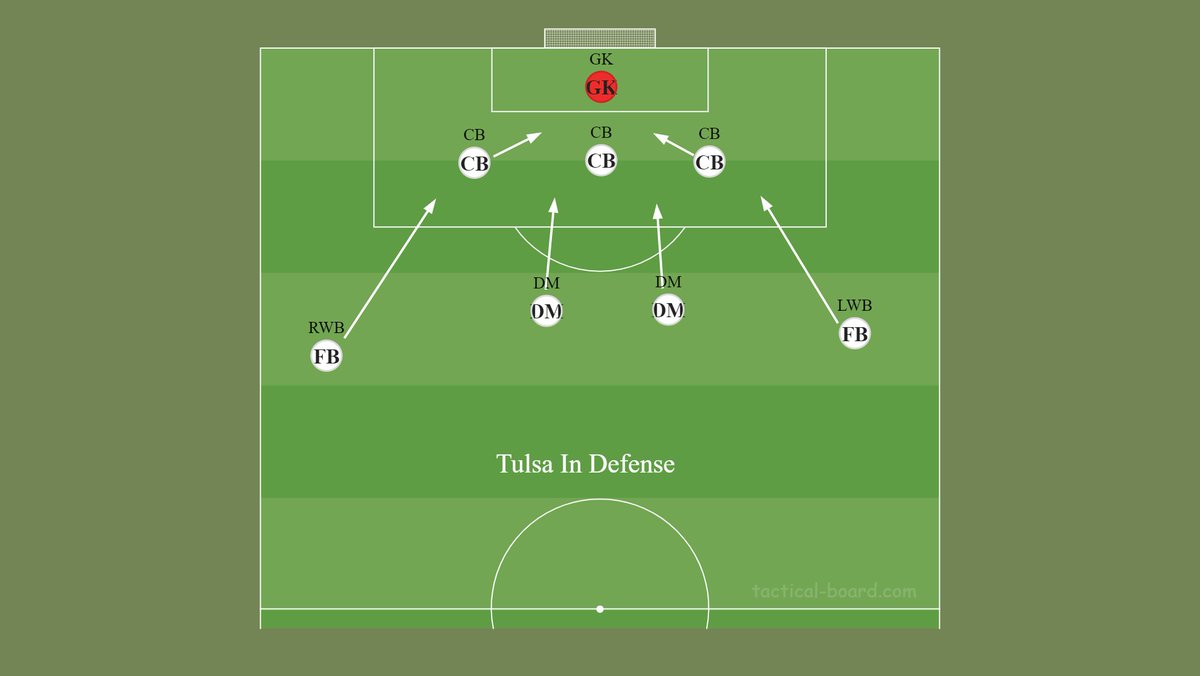 Adding in our player, there's clearly not a ton of space to shoot. You're either shooting outside of the box or directly into a defender, which of Legion's 19 shots, 10 of them were blocked by a defender.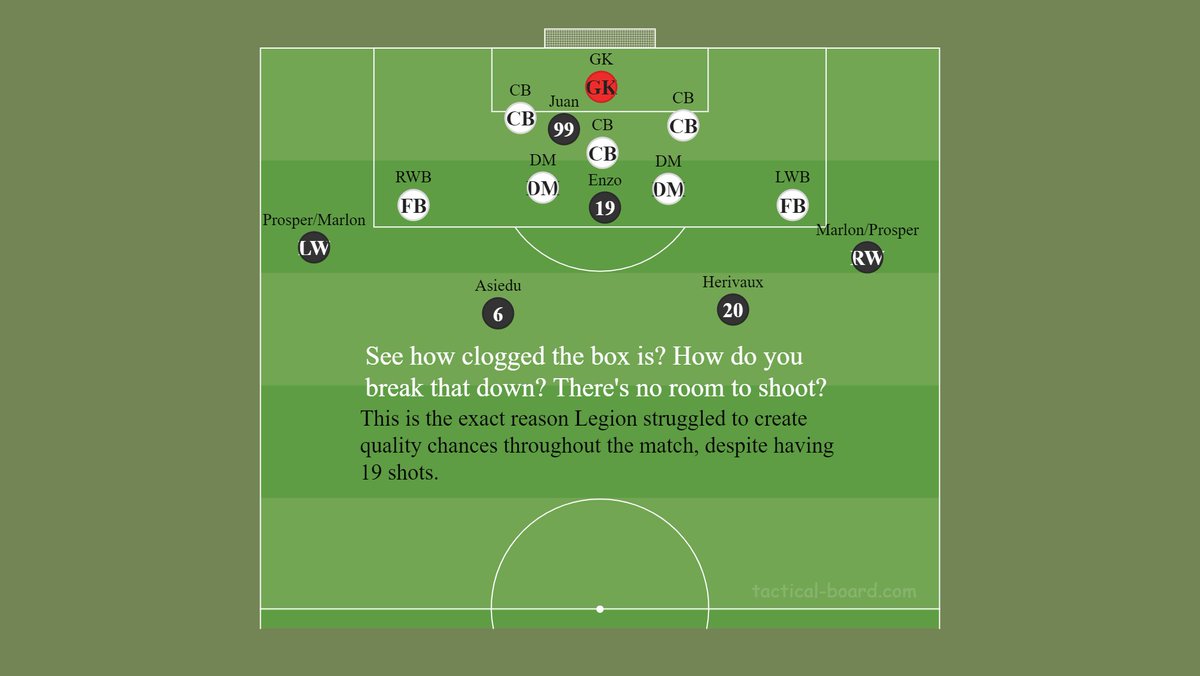 Here's an image of every single blocked shot we had in the first half. We were working flanks and angles because that's where the most space was. Shooting straight ahead meant shooting toward at least 3 bodies, that being a CDM, CB, and the Keeper.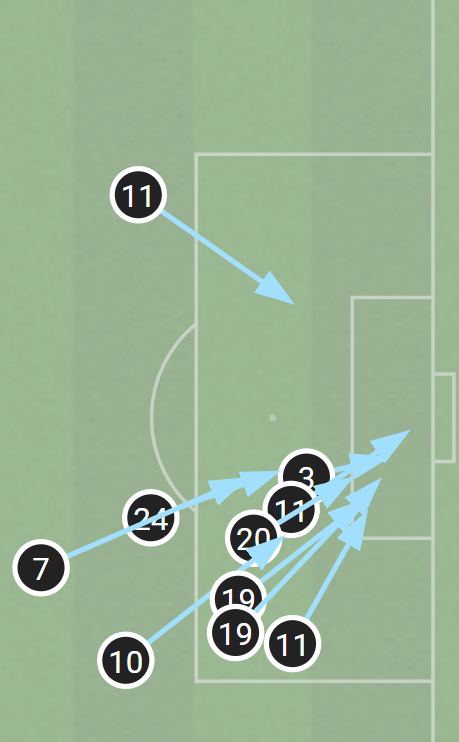 But in every single defense, there's open spaces. Tulsa conceded the wings and depend on how fast of a counter attack, the space between the CDM/CBs and their full backs. There's also the world that the CDMs cut off that space, but this graphic is speaking about what generally happened last night.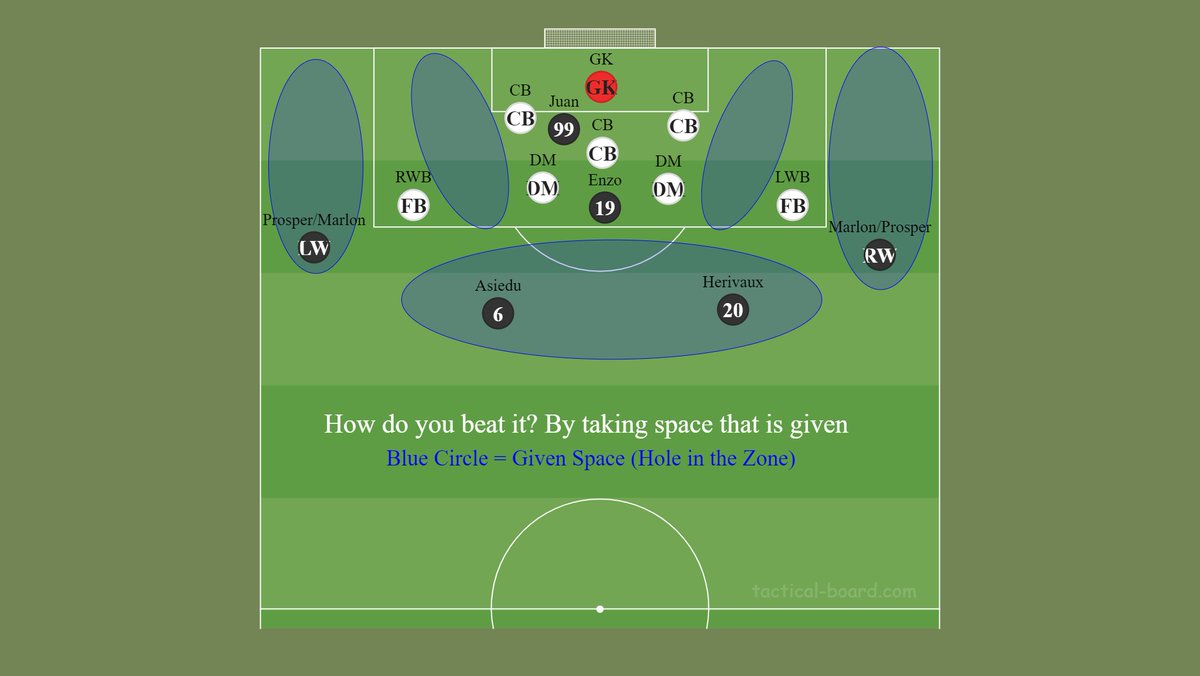 Early on, we saw Prosper put in two PERFECT crosses into Juan Agudelo that he BARELY put off frame. It was easily Legion's best advantage in the box, but for whatever reason, did not continue to put pressure on in the air unless it was from a set piece. Which, by the way, I really liked what I saw out of Juan last night.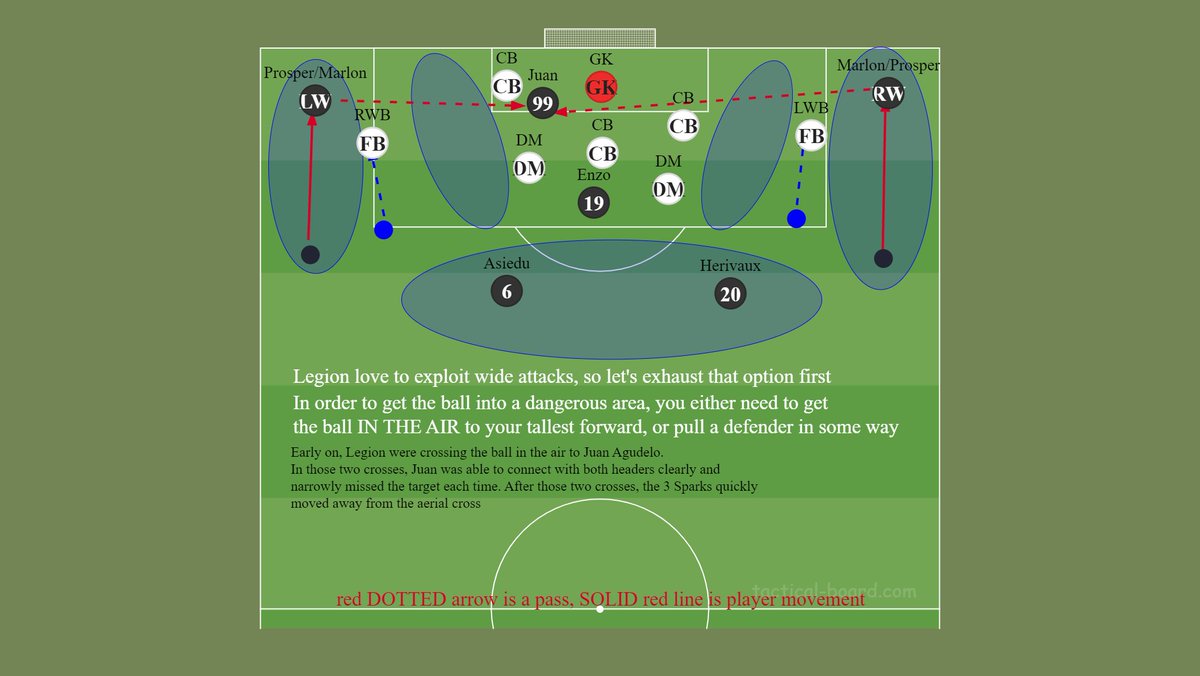 This graphic is the definition of what Enzo said about needing multiple moving around off the ball. I'll break down the order in which this happens and you'll see why it is so complex to breakdown a backline like this.
Keep in mind, this can be reversed to the opposite side.
Anderson Asiedu moves into the space that is between the defensive midfielder and the right wing back
Zach Herivaux occupies the space that was once occupied by Anderson.
IF the DM slides over to cut off the back pass to Herivaux, Enzo slides to occupy the space once controlled by the defensive midfielder. IF the DM does not slide to cut off that pass, Herivaux is open at the top of the box
IF the CB steps forward to guard Asiedu, Juan Agudelo is wide open on the near post. IF not, Anderson will have space to take a touch and line up a pass to either Enzo or Zach, depending where the midfielder is OR take a shot on net.
The issues we had last night? Anderson, Zach, Bruno, or Enzo would occupy that space and only one or nobody would make those off the ball movements. Only one off the ball movement is simply not enough to breakdown a packed in defense. We need more off the ball movement.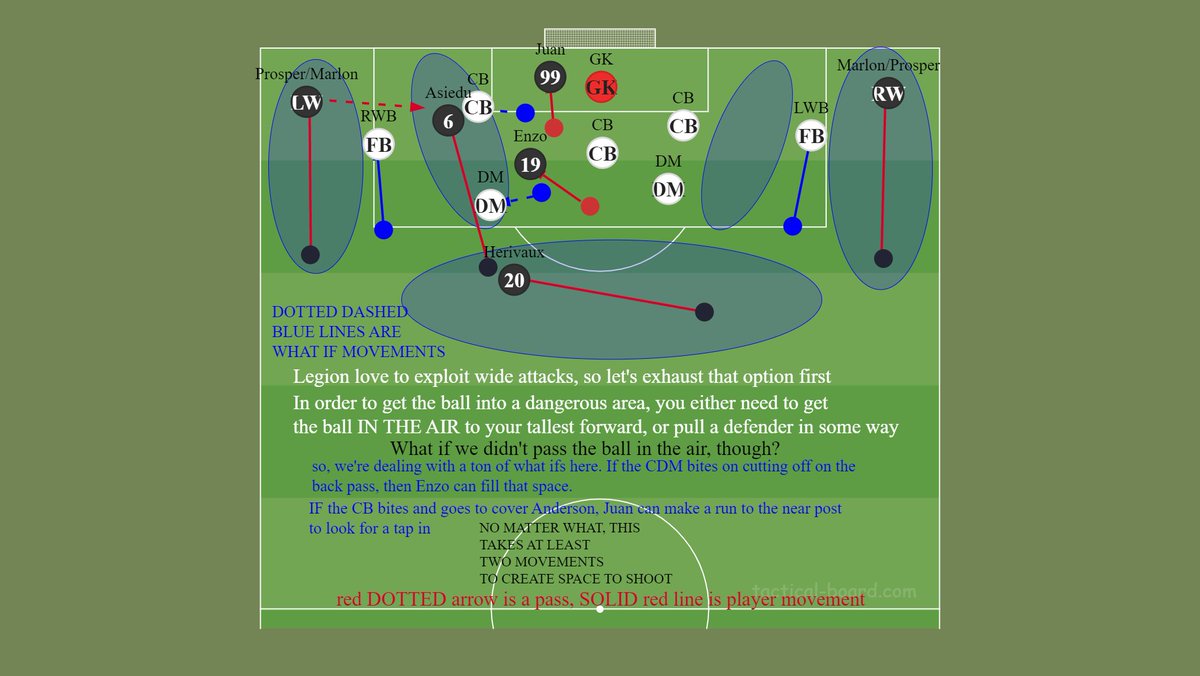 Originally tweeted by Kaylor Hodges (@KaylorHodges) on July 24, 2022.
Okay, What About the Defense?
Here's the video of the goal:
Originally tweeted by FC Tulsa (@FCTulsa) on July 23, 2022.
And it's almost a 1-for-1 representation of the graphic I made about Ryan as a left back and Anderson as our defensive midfielder.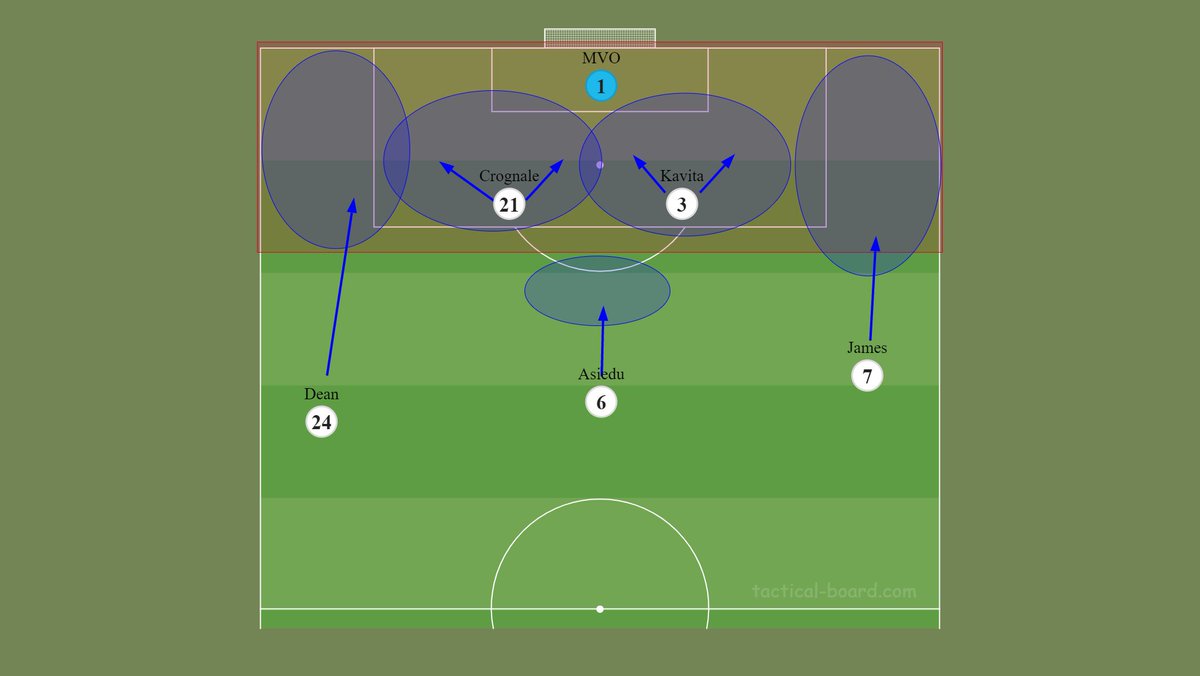 Granted, that attack was caused by a misplaced pass by Prosper Kasim, so the team was slightly caught out of transition, but to me, the point still stands. Anderson roams finds himself higher than the top of the box. Where was that shot taken? Top of the box.
Sometimes I know things.
Other than that? It was fine. We held it down until we went down to 10 men, and even then, it only got shakey at the very end. JJ Williams was onside, by the way.
Did Anything Go Well?
Honestly, I liked what I saw out of Juan Agudelo. His pressing was good, his dribbling was solid, his passing was good, and he was making those off the ball movements. It's hard to blame him for not scoring when the system we were using did not allow him to even receive the ball.
You can make the criticism that he should've been able to toe poke some of those balls from Marlon in, but Juan just isn't that fast. We know that. We know he does not have Enzo, Edi, Mataeo, or Jonny speed, so don't try to hold him to that standard when it comes to those plays.
I've been critical of his pace when it comes to pressing, but even then, that's a system thing, not a talent thing.
Also…
Anderson Asiedu you absolute freak show.
He only lost the one duel all night. His dribble through… everybody was magical. He is a magic man. There's no reason why he's still in the USL.
Final Thoughts
We certainly made things harder for ourselves. With Pittsburgh and Detroit both picking up points, Legion are squarely in 6th with a game in hand over DCFC and the Riverhounds. A win sees us go level with Detroit and two points behind Pittsburgh. While we do have a home match against BOTH teams, this path to a home playoff match became a lot harder.
It's a home playoff match or failure. No question.