Recent successes bring up the GPA, but doesn't hide the flaws
Despite the craziest results, Legion are somehow still on track, but it is not as comfortable as we once thought it would be. As we are rolling into Match Day 19, there's massive question marks on the team, but very clearly some bright spots, as well.
Pre-Season Predictions
To this point, I personally predicted the team to have 29 points through 18 matches. So far? We have 29 points through 18 matches, but those points did not come from the places we thought that they would.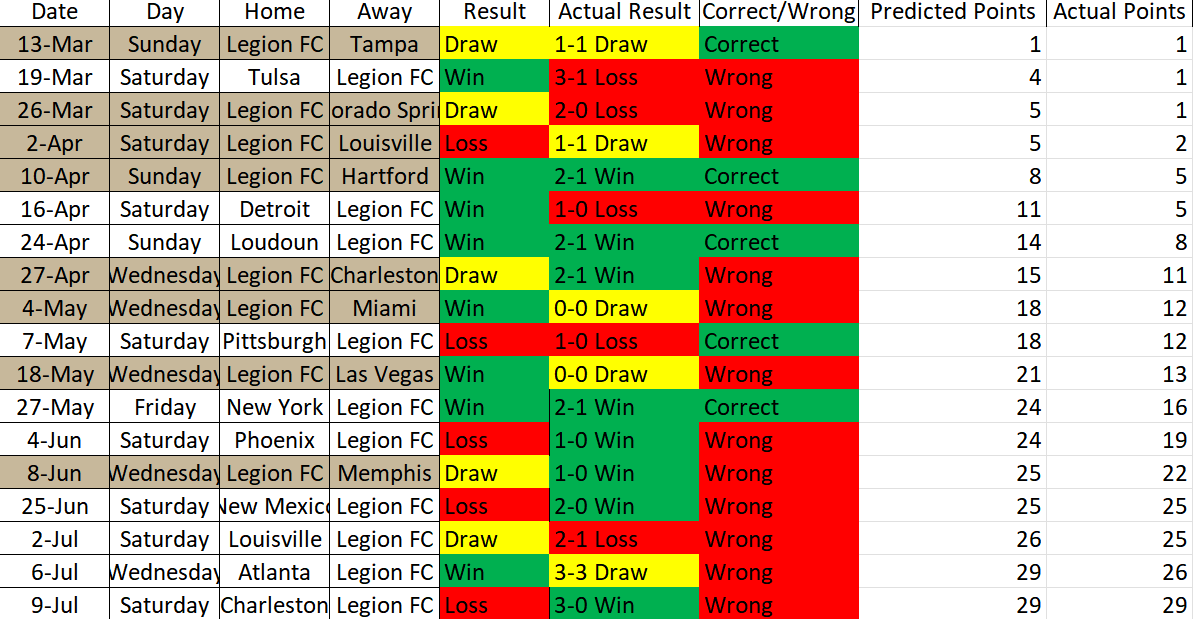 We all knew that the massive amount of change in the forwards would be a struggle, but we didn't think it would be this much. That said, our backline is even better than we could have ever predicted. In terms of coaching and tactics, we were all wary of Coach Soehn's seat getting hotter and hotter, but a mid-season shift has changed public perception of the Gaffer.
Overall Grade: B+
I know several fans are probably saying, "NO! Absolutely not! No way we are having a B+ season!" I have a method to my madness. I gave every position a grade. I went through game logs, my personal film, and consulting fans' reactions to matches. We have a great team with obvious weak links. If those weak links were to improve a letter grade, we're looking at a serious title contender. If not? We'll just have to settle for playoffs and first round exit.
How Did I Get My Grade?
Every position group was given a grade ranging from F to A+. The lowest grade given was a C (you probably already know who). From F to A+, that is a number range of 1-13 (F being 1, A+ being 13, all numbers in-between). It's not the most scientific way to grade the team, but it's the easiest to understand. Let's get stuck in.
Goal Keeper Grade: B+
Matt VanOekel is having another fantastic season and Trevor Spangenberg has looked solid in his two appearances. While Trevor has allowed 4 goals in the 2 matches he played in, 3 of those were by completely unmarked men in the box shooting from the 6 yard box. Not his fault.
As for MVO, his shot stopping is still as good as ever. His 7 clean sheets through 18 is still one of the tops in the league, but his major dock in points comes from his distribution. It's mostly fine, but we have yet to have a "perfect" distribution night from our Donut King. With clear instructions to distribute to wide areas, we've seen a fair share of MVO goal kicks or punts go out of bounds to gift the other team possession. It hasn't cost the team yet, but it makes the backline work harder for one possession longer than they need to.
Originally tweeted by Birmingham Legion FC (@bhmlegion) on June 26, 2022.
Center Back Grade: A
It would have been an A+ if the Atlanta United 2 result didn't happen. Phanuel Kavita and Alex Crognale have been two of the best center back pairings in the USL. While Alex has had matches of being lackluster, that's also to his massive standards. For other clubs in the USL, or even MLS, his poor performances would still be outstanding.
Phanuel Kavita, though, has been flawless. Ever since his own goal against Atlanta United (MLS) in pre-season, he's been flawless. Actually flawless. He has only been beaten once, and that was against Atlanta United 2, and even that was debatably not his fault at all. These center backs have been incredible. Soak in the greatness.
Full Back Grade: B+
Jonny Dean is doing Jonny Dean things, despite having a subpar start. Jake Rufe had cemented himself as the best left back in the team, but now he is out for 6 to 8 weeks with a "lower body injury." It leaves a massive question mark on a position that was a clear question mark to begin the season. Who is the best option? If you want more offense, it's Ryan James. If you want another center back, it's Mikey Lopez. But who is going to play full back? Nobody on the team really does.
If the team does not go out and sign a new fullback, then the best solution is probably Mikey Lopez, but even then that's not amazing considering he was our best central defensive midfielder.
Overall, the grade is not purely based on performances, rather the state of the position group. I said before we were one injury away from being in MASSIVE trouble, and here we are. The front office needs to be working, and working fast. Something tells me that they are.
Holding Midfield Grade: A+
I said it pre-season, and I was right. The Holding Midfield (aka Central Defensive Mid) have been the strength of the team. Coming into the season, we knew Anderson Asiedu was going to be the backbone of the club and we thought Thomas Vancaeyzeele was going to be a clear part of that battery, but we traded him away for cash and an international slot.
So, who filled in? Mikey Lopez. The man who plays every position with no real home found one, and it's CDM. He IS the best CDM on the team, allowing Anderson Asiedu or Zach Herivaux to move into the attack. Zach Herivaux has also been in the form of his career, that 60 yard run to a goal is still one of the most incredible things I have ever watched. Zach and Anderson have been allowed to play a little higher than a true CDM this season, but that is still their strengths as players.
Originally tweeted by Birmingham Legion FC (@bhmlegion) on July 7, 2022.
Oh, and with Mikey Lopez moving over to Left Back again, we just have Anderson Asiedu playing CDM again. What a downgrade, am I right?
Central Attacking Midfield Grade: A-
Bruno Lapa and Enzo Martinez. Do I need to say more? Enzo has been arguably player of the season and Bruno is still just as influential as ever. I know some people have been disappointed in Bruno's play, but his set pieces are still the best in the league. No exaggeration. Bruno's corners and free kicks have been the best in the business with a 100%(!) connection rate from his foot to a teammate.
As for Enzo, he's been the engine of this Legion offense. We all knew that Anderson was the guy who made things go before, but that baton has been passed to Enzo Martinez. Everybody knew that he would be signing of the season, but I don't think anybody could have predicted him to be this good.
The only reason this position is not an A or A+ is purely because of Bruno and Enzo not really playing the role consistently. Enzo is often called in to be a forward and Bruno coming in off the bench after missing several weeks of football. The CAM is a position that is slowly being fazed out of this system, but their impacts are still immense.
Wingers Grade: A+
Prosper Kasim, Enzo Martinez, Marlon Santos, and Ryan James. Marlon to Enzo has been one of the best connection in the USL, Prosper has finally starting reaching his full potential, and Ryan is starting to show off his offensive talent. Offensively, this is the team. Prosper has had bangers this year, Marlon is one of the best on-the-ball attackers I have ever seen in the USL, and Enzo Martinez is a threat anywhere on the pitch.
What could make this group better? A more consistent set of strikers.
Strikers Grade: C-
Are you shocked? You really shouldn't be shocked. Between Juan Agudelo, Edi Horvat, and Macky Diop, our strikers only have 2 goals from open play, and 1 of those from a guy who hasn't played in Birmingham in MONTHS. Juan Agudelo has been proving his worth with passing and beyond intelligent runs while Edi Horvat has been given minimal game time.
Originally tweeted by Birmingham Legion FC (@bhmlegion) on June 26, 2022.
There's plenty of "what ifs" and whatnots we could say, but it does not matter who plays as striker, we need one to click. Edi Horvat's off-the-ball movement has been awesome to watch and his pressing is great, but his touch on the ball is the reason that Juan plays over him.
Juan has the issue of holding on to the ball for one touch too long, and that's been the definition of his Legion career so far. My solution? I don't know. We all know that Edi has been one of my favorite people I have ever met, but Juan is clearly going to get the vast majority of the game time. What do I want to see change? Well, Juan put up more shots. It's not about his dribbling or passing. He needs to see the ball hit the back of the net. If that means getting a little selfish and shooting from 20 yards out? Whatever. But if I see any of the forwards in front of net and they choose to pass the ball or try a dribble instead of banging the ball, I will lose my mind.
I still stand by Edi needs more game time, but I am slowly coming to acceptance that it probably won't happen.
Coaching Grade: B-
If the season was only 10 weeks long, it would have been an F. The passive play, the pointless dribbling, the meaningless passing cost us at least 5 points with draws against The Miami FC, Las Vegas Lights and a loss to Detroit City FC. How differently would we see this team if we were sitting at 34 points, sitting in 4th? It's a COMPLETELY different outlook on the team. Instead, we're looking at 29 and sitting in 6th and 4 points behind 4th/5th.
That said, after the Las Vegas match, we saw a real shift in mentality. The slow build up, the overdribbling, the overpassing is gone. We shifted to a press and counter attack system. Want an example? Check out the last goal against the Charleston Battery
Originally tweeted by Birmingham Legion FC (@bhmlegion) on July 10, 2022.
Jonny with the press, Enzo with possession, passes it to Jonny on his "first touch", Jonny passes on his first touch, Ryan James shoots on his first touch. We all knew that pace is what this team would be built on. By taking away the team's natural "checkmate", we had no real advantages. Now? We look dangerous on nearly every single attack.
I know that Jake Rufe is out, but I still cannot get over this defensive system.
I don't use this lightly, but it's truly defensive tactics porn. With Jake Rufe out, Mikey will be filling that LB system, but Anderson does not play the same CDM as ML5 so we will see how Tommy adjusts the system.
I still think some of our substitution decisions like against Louisville City has cost us points, but it's getting a lot better. We often talked about how Tommy was unwilling to change, and now he has shown he will. I'm still having nightmares about taking Ryan James off and not Mikey against The Lou.
Final Stretch
Sitting in 6th through Week 18 and coming up on the easiest part of our schedule, we are in a good place. That said, it's time to get fat on bad teams. No more dropped points against inferior clubs. It's time to see our forwards bang goals, or at least giving other players a change.
The biggest question mark? Who will play left back. While Jake was in the form of his career, we need a replacement and we need them now. We are one more injury away from being in crisis mode and that's not a hot take.
Next goal? Has to be a home playoff match. Nothing less is acceptable.