Was That the Worst Defensive Performance in Legion History?
Yeah, that was bad. I cannot think of a worse defensive performance in Legion history. Just not switched on, silly mistakes, just screw ups. What caused that? Well, you just watched the impact of not having Jake Rufe or Mikey Lopez. Guess what? We won't have Jake Rufe for Charleston, either. That said, Charleston is a much worse attacking team than Atlanta United 2…
Before We Begin…
I get it. I know that MLS 2 teams get a horrible reputation, but Atlanta United 2 has one of the nicest and professional groups I have ever worked at. I know the field at Fifth Third Stadium, aka The Fraction, is not perfect, but the other facilities are brilliant. As I am writing this, I'm in a press room with WiFi (good WiFi), amazing A/C, and water at my request. Which is not the standard at every stadium I've been to.
I also had a funny moment when a lady at the gate asked me, "Do you know who Darren Eales (President of Atlanta United FC)? He needs to pick up his pass." What a bizarre moment.
Let's Just Talk About It
In this clip, you see Alex get sucked into an unoccupied space, drifting toward the ball slightly. That drift pulled him away from Brennan who is left wide open to get his head on it. By the way, talk about absolute bunnies by Brennan.
Originally tweeted by ATL UTD 2 (@atlutd2) on July 7, 2022.
On this second goal, Phanuel simply mistimes his jump and gets beat. On Twitter, I wrongly believed that this was Alex's ball. He had no real chance to get to it, but I do believe that if he were to have jumped, it could have thrown Firmino off. That's a bunch of "what if", though.
This is another long ball that caught the Legion defense out. This was the third 1-on-1 keeper Trevor Spangenberg had to defend. He stopped the first time, but third time's a charm. Legion have been playing with an offsides trap all year long, and for the first time, it has burned them enough to lead to a goal. We have seen the backline get beat multiple times, the most notable against the Charleston Battery where Auggy Williams just fluffed his lines and missed the back of the net.
Trager, who has a real argument of being the best striker in the USL, did not. He took it around Trevor and calmly finished the ball. Who do you "blame"? Well, the entire backline. Neither Alex or Phanuel are as fast as Trager. What about Jonny? Jonny was in the midfield and nowhere near the play.
Why was Jonny in the Midfield?!
🧵This is why a non-consistent press is detrimental to a backline. In the first half, we saw consistent pressing that would look similar to the picture below. Our midfield would step up and our forwards would push up. Meanwhile, our wings would sit and wait to see what happened.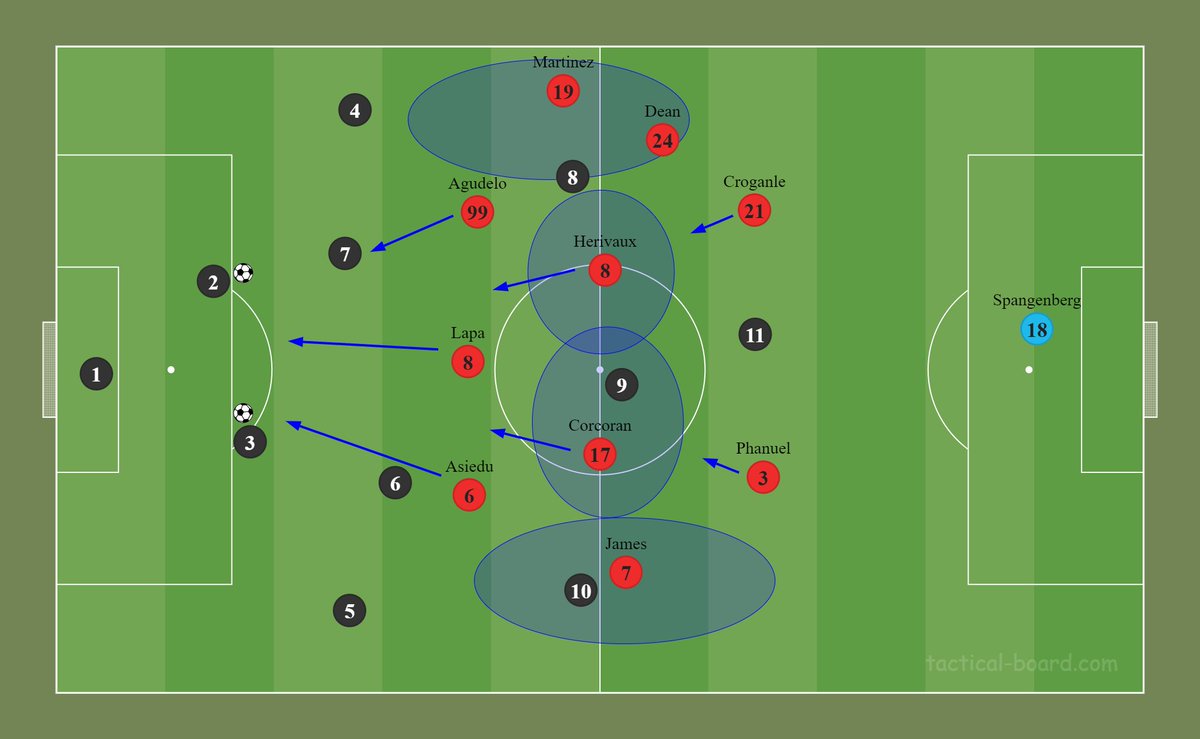 This forces teams to play it short because they do not have time to play the long ball, and if they do, it is just not as accurate. What we saw in this play is what we see in this image. Because the team did not press, the CDM had more time to pick out a pass.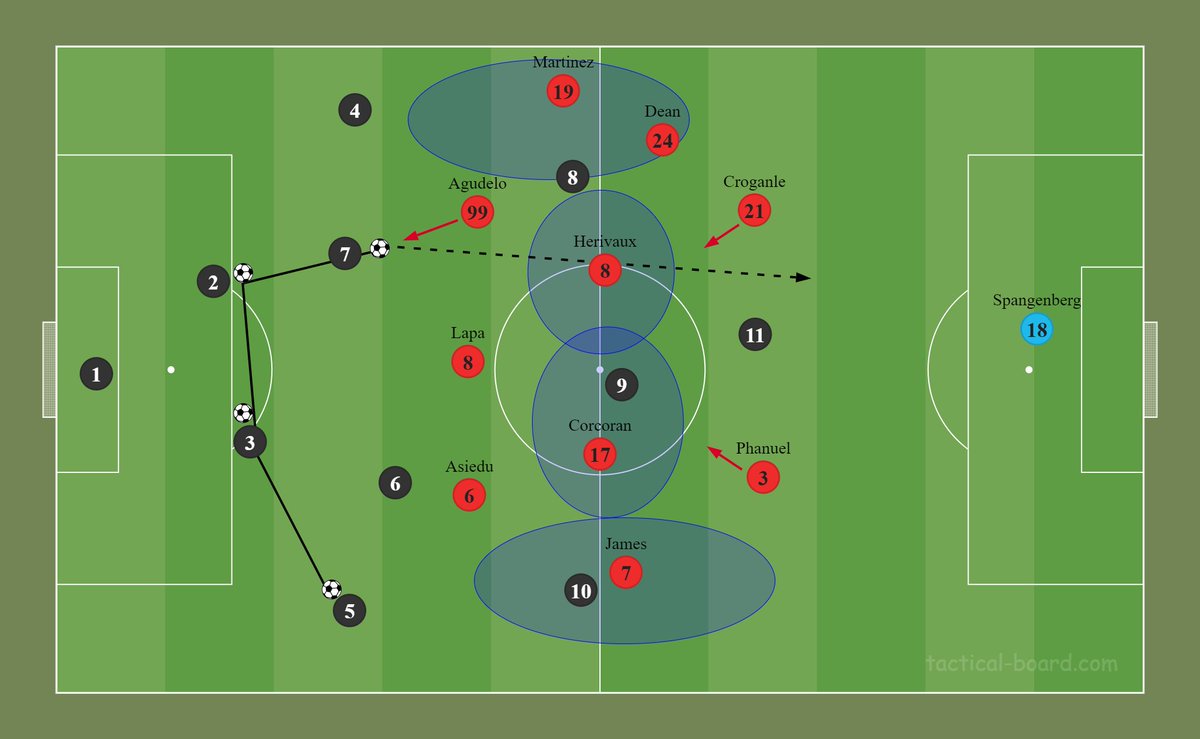 With Phanuel and Alex still stepping forward, expecting the press, they were completely caught out by Trager, with no real chance of a recovery. While I think Alex should have taken a back post run, it probably would not have changed much.
Well, because Legion had been pressing the ball up until that point. As you saw, though, nobody was pressing the defenders with the ball. When you switch off and stop pressing, you leave your backline out to dry. This was a system issue. This is once again the problem with Juan, he just simply does not have the pace to press. There were several times that Matthew Corcoran was instructed to press because he simply has more pace than Juan. It's an issue.
There Was Good, Right?
I think so. Despite the 3-3 draw, Legion haven't scored 3 since Sporting Kansas City II, a 6-0 win. We desperately needed to see the ball go into the back of the net. Guys like Bruno opening their account and Zach finally seeing one go in is massive. Sure, it was against Atlanta United 2, but goals count all the same.
Let's look at the first goal.
I asked Edi myself, yes, he meant to dummy that ball. It was a brilliant run by Marlon, where he played a hot cross to the back post, perfectly weighted to Enzo Martinez.
Marlon is in peak form right now, and there is not a better winger in the USL when Marlon is on.
Second goal was a great save by the keeper, but well done by Bruno to follow his shot. Well composed on the rebound to double the lead.
Last up is Zach's BANGER. He went on a 60 yard run and casually bangs it top right.
I mean, come on. It doesn't get better than this. Some people are saying this was an accidental assist, but I honestly believe that Juan nailed it. Also, have a bow, Zach!
Overall
The boys needed a bit of a kick. This was an embarrassing dropping of points that should have never happened. It should be the kick in the teeth the teams need, not just rage at a ref.
That said, if you read this far, how about a spoiler? Some big news coming out of Legion HQ these next couple of weeks… Can't spoil anything, Clayton will kill me, but get excited 3 Sparks.