A Sold Out Crowd in Tuscaloosa, Alabama Proves One Thing: Soccer Will Succeed in Alabama
1,760 fans were officially announced as the attendance at Alabama Soccer Stadium, but that didn't account for the nearly 500 that were parked outside the stadium to witness history. For the first time in The University of Alabama's history, they were heading to the Women's Cup (also known as the Final Four).
Originally tweeted by Alabama Soccer (@AlabamaSoccer) on November 26, 2022.
This is not a shock for anybody who has watched this team, heck, I even wrote about why they're so good. The shock is that just as recently as 2018, I remember matches with 50 or less people in attendance. Me and maybe 5 other students who watched and the parents of the players. We all know that the State of Alabama will support a winner. We all know that they will show out when a team wins, but this team has gotten hot at the perfect time.
Originally tweeted by Alabama Soccer (@AlabamaSoccer) on November 26, 2022.
People like me have been trying to grow the game here in Alabama. I write and record with the hope that it makes a difference. The secret is that American Football will always control the headlines, and here in Alabama, College Football is king for the Kings of College Football. When college sports run the talks of the town, where does soccer fit into the picture? It's simple: Make the soccer team competitive.
New Eyes Realize the Beauty
College is all about experimentation. New friends, new city, new foods, new drinks, and apparently new sports. There are students does at The Capstone who are experiencing Women's Soccer for the first time. Women's Soccer has been more accepted in The United States than anywhere else in the world, but it still is fighting an uphill battle. In the Deep South, men's sports are coveted. Women's sports are just cute. Alabama Soccer is changing that narrative. This Alabama Soccer team is dirty, they grind, they will put you through it, and they love making the other team hate themselves.
Originally tweeted by Alabama Soccer (@AlabamaSoccer) on November 26, 2022.
That's not what people think of when they think of Women's Sports. People imagine the flopping of men's soccer. They have heard forever how women's soccer is worse than men's, how boring it is, how uninspiring it is.
That is, until it inspires an entire generation of young girls who dream of competing at the highest level for their favorite university. They inspire a generation of girls that they too can sellout a stadium in the Deep South. They inspire an entire generation of future parents to introduce their children to soccer. They inspire an entire community to continue to watch and support.
The Right Run at the Right Time
Whether is be Alabama, Auburn, Samford, UAB, Miles, South Alabama, North Alabama, etc., etc. This was the time for a team to get hot. With the college playoffs occurring during the World Cup will only happen once, teams had to take advantage.
Originally tweeted by Joseph Goodman, Sports Enthusiast 🎟🍺 (@JoeGoodmanJr) on November 21, 2022.
Alabama took on Duke less than 12 hours after the United States took on England. That will never happen again for any team. Ironically, the biggest winners of the World Cup very well could be college soccer. Communities are getting invested in the game, and the local university being a successful program will make waves. Especially now.
Originally tweeted by Will Miller (@realwbmiller) on November 26, 2022.
What Does it All Mean?
We grew up supporting our favorite school. We were raised since birth to support our school. We were "Roll Tide", "War Eagle", "Blaze On", or something else since before we had a choice. The fact is, our schools have been around longer than any soccer club we could support. Our love runs deep for our universities. Why does it matter? What does it mean?
It means that in the long run, competitive college teams create a hungry fanbase. If Alabama and Auburn stay competitive, then teams like FC Birmingham and Birmingham Legion will grow in fanbase. If UAB and Samford continue to succeed, then FC Birmingham and Birmingham Legion women's team will have a deep pool of players to recruit. If Miles and Jacksonville State continue to improve, then those communities will embrace the beautiful game.
In the end, professional teams like Birmingham Legion FC bring legitimacy to the State of Alabama. The University of Alabama creates a hunger.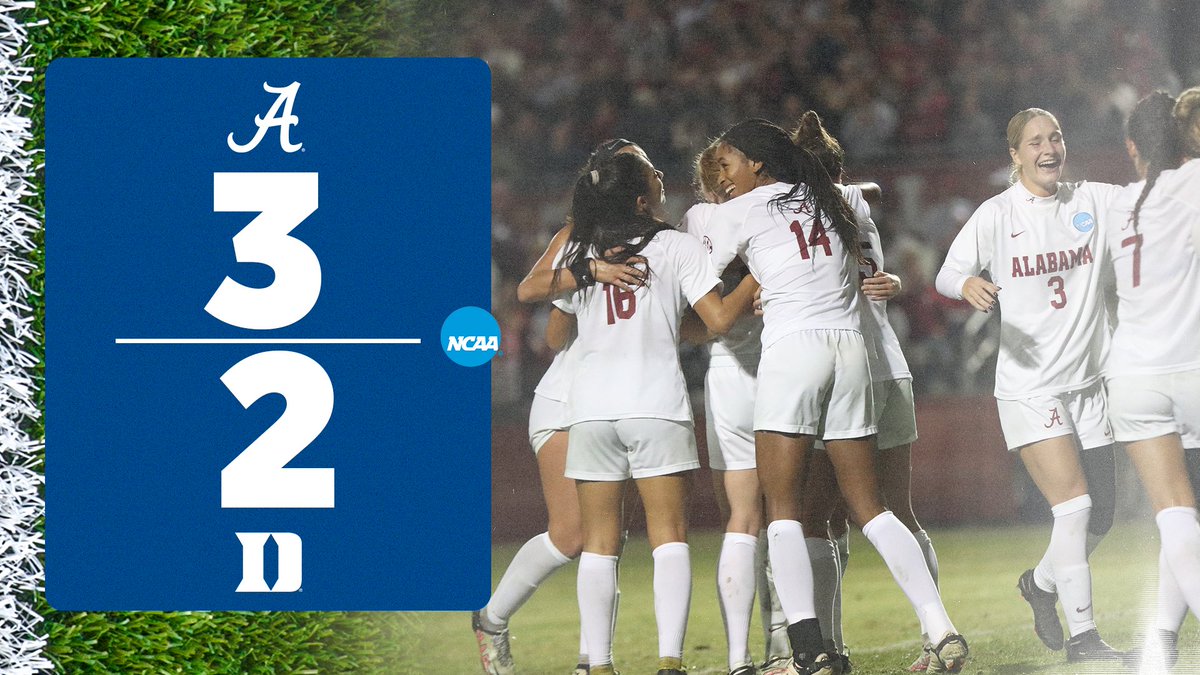 Originally tweeted by Alabama Soccer (@AlabamaSoccer) on November 26, 2022.
If we want soccer to grow in The United States, then invest not just in your local men's club, but invest in your local university. They're the secret ingredient in this massive Thanksgiving Feast that is footy.