The Shootout with Santa was one day for the club, but a lifetime of memories for families
With Christmas in just 6 days and the first night of Hannukah happening just 12 hours prior, the holidays are fully in swing. Even in the most magical time of the year, there are stresses that weigh on everybody in every single circle of life. While Hallmark movies play the ideal world for people to discover love and happiness during this holiday season, it truly never is that simple.
Originally tweeted by Kaylor Hodges (@KaylorHodges) on December 20, 2022.
Parents are scraping together their last bit of money to make their kid's Christmas a hit. Some parents are having to explain to their kids why Santa isn't coming. Some people are sitting home alone wishing for a miracle of happiness while the spiked eggnog flows freely. Where is the magic? It feels like a Shakespearian Tragedy laced with holiday irony along the way.
That's where Birmingham Legion FC stepped in.
Shootout with Santa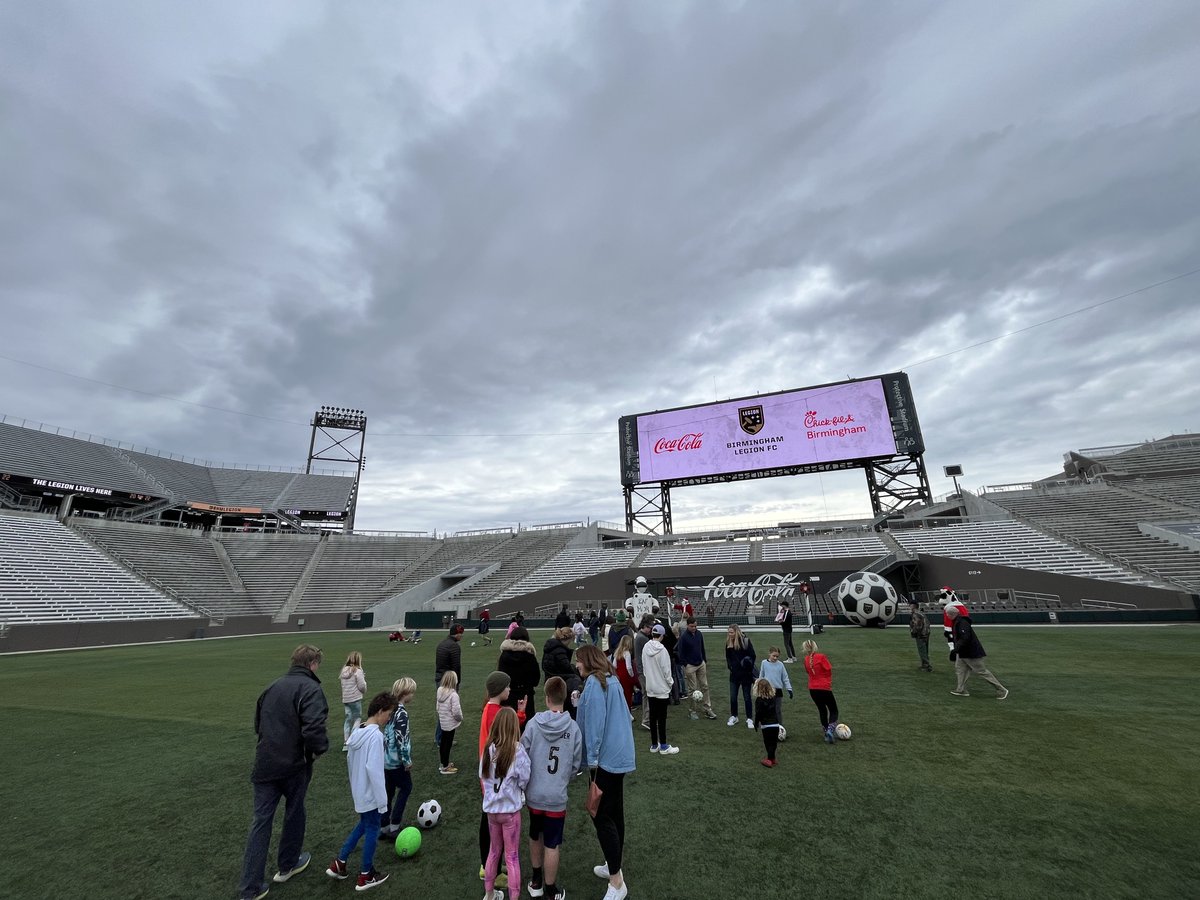 (photo of the line after it died down)
Don't get it twisted, this was an opportunity for the club to make money. With merchandise surrounding the entrance, and discounts and last minute Christmas shopping, the opportunity to make money was obvious. But that's not what stuck with me. Not in the slightest.
Legion did something that every club should do. They held a free event. If they decided that in order to take shots on Santa (Matt VanOekel), it would be a $5 fee, nobody would bat an eye. If they decided that the event was season ticket holders only, nobody would mind. But they didn't. The parking was free. The entrance was free. The Chick-fil-a was free. The penalty shots were free. The ability to play soccer on the same field as our local heroes was free.
What Legion did was allow families of all races, religions, and socio-economic statuses to participate for 100% free. And it was priceless.
Walking up to the stadium, all of your favorite holiday tunes were circulating the air. I heard kids talking about how they were going to put on top corner on Santa. Other kids finding out that Enzo Martinez and Jonny Dean would be there, absolutely losing their minds that they can meet their heroes. I saw families of every single background dying to be involved with the festivities.
The best part? Had to be the Shootout with Santa. Santa, standing 6'4″ and suddenly a lot skinnier and muscular than the jolly, fat man we all were told about. The best part of this shootout is that Santa, who also tends to be referred to as Matt, MVO, The Donut King, Dad, Husband, tried his hardest.
You could expect a professional athlete who is dressed like The Big Man himself to let the kids score and have a happy memory. There are no free goals against VanOekel, and it made it so much better. For the parents, seeing MVO flail around and trying to save shots was humorous. For the kids, it was a realization of just how good he truly is, and a sign of mutual respect.
There was one girl, 10 at the absolute oldest, who placed the ball perfectly in the bottom corner. Already running up to celebrate, just to realize that this Santa is not going to concede, no matter the cost. When she saw the ball was pushed out for a hypothetical corner, her eyes lit up and she looked at her parents and said, "I made him try." She would remember the goal she scored, but she'll absolutely never forget being robbed by The Donut King.
Magic>News
You may have noticed I haven't written an article on the signing All-USL forward Tyler Pasher, or haven't address the upcoming transfer of Brazilian forward Marlon Santos. Frankly, it doesn't matter. I could talk about the system, the hole in the attack, the answer up top, but it honestly does not matter.
What matters is seeing families play soccer together on the same field Legion plays on. What matters is seeing kids' eyes light up when they meet their heroes in Jonny Dean, Enzo Martinez, and Matt VanOe- I mean Santa. What matters is seeing a community come together, no matter the background.
It's easy to become obsessed with what a football club does on the pitch, but creating a little bit of joy on the holidays is what makes a football club. It's easy to let the seasonal depression hit and the stresses of the holidays weigh you down. While Legion FC didn't make those problems go away, they alleviated some of those pressures with a dose of serotonin to boot.
I don't know how much it cost the club to put on this event, but I can tell you that it was priceless.